Rain hurts downtown crowd; Vinland airport busy during annual event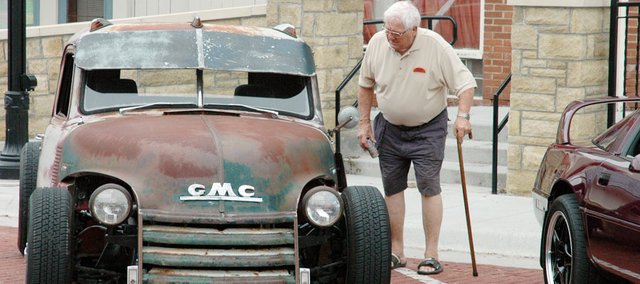 Photo Gallery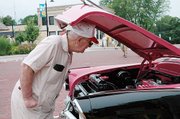 Planes, Trains and Automobiles 2009
Baldwin City's annual Father's Day weekend event, Planes, Trains and Automobiles, saw its usual crowd of people, despite rain showers late in the morning and early afternoon.
Before weather shortened the event, McFarlane Aviation recorded its highest number of participants at its annual Young Eagles program.
In conjunction with the Planes, Trains and Automobiles event in Baldwin City, McFarlane Aviation offers free rides to children ages 8-17 during the morning. The airport north of town was busy for nearly three hours, until weather created problems for the pilots.
"The light rain was OK, but the low ceiling created visibility concerns for our pilots," said Star Novak, organizer of the event for McFarlane Aviation. "Safety is our utmost concern."
The airport stopped giving rides sometime after 11 a.m., although it was scheduled to run until noon. More than 60 children flew during the couple of hours the airport was open. Eight pilots offered free rides to the children.
One girl from Louisiana flew Saturday morning. Novak said she was in the area and came down to the Vinland Airport with friends.
"We could have flown more, but the weather wasn't 100 percent cooperative," Novak said. "Unfortunately, we had to turn some kids away. The ones that did fly had a great time. This was the highest number of kids we've had at this event."
Weather also created problems for visitors in downtown Baldwin City. The antique, classic and street rod car show and vintage motorcycle shows were affected by the weather. Around 60 vehicles were on display for both shows, but many of them left when the rain began to fall late in the morning.
"The weather was a factor," said Steve Friend, event organizer. "We were hoping for a few more cars, but the cars we did have were good. Sometimes, when you get threatening weather, people don't want to bring their cars out.
"My assessment was that we had a pretty steady crowd throughout the morning," he said. "Even when the weather got a little crappier, we still had an even flow of people coming through here."
Much of the same could be said for the vintage motorcycle show.
"We had about that usual number of about 60 motorcycles this year," said Stan Vickers, motorcycle show organizer. "We had several ride-ins, so we didn't have an exact count."
The Planes, Trains and Automobiles event began Saturday morning with the Baldwin Biped 5-kilometer run. Friend reported 23 runners participated in the first-ever event.
Meanwhile, downtown was busy with hungry pancake eaters. Chris Cakes, of Louisburg, sold 167 tickets for the fundraiser breakfast.
"That was nice to see," Friend said. "That was a nice little addition to the event this year."
Downtown was filled with people looking at cars, motorcycles, arts and crafts, bicycles or the Farmers Market. Midland Railway also gave rides to fathers and families in the morning and afternoon. Friend was pleased with the annual Father's Day weekend event.
"There were a lot of things to do locally that didn't cost you much money," he said. "We had quite a few things to do, so it was a nice little event."
Friend also said there are a few changes that could affect next year's event, but nothing is planned just yet.
"We're working on getting a barbecue sanctioned event next year so those who participate can get points toward the American Royal," Friend said. "You get much better results, when you have something where they can earn points. Ivan (Huntoon) and the chamber (of commerce) are working on that process. If that comes, it will be sort of a Friday night and tying into Saturday event.
"We will meet in a few weeks and kind of regroup for next year," he said. "We will talk about what worked well and what we need to change. We need to have more of a start time for everything and consolidate things more. We'll also see if we can get that weather tweaked a bit, too."