BHS

coaches enjoying state rule change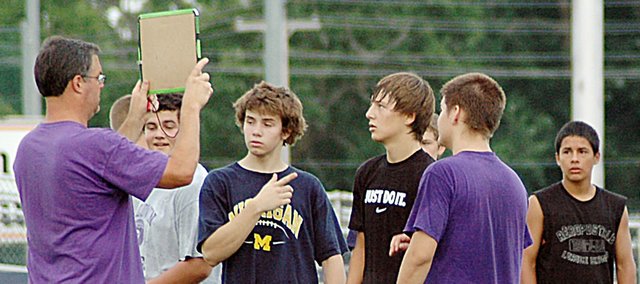 Baldwin High School basketball, football and volleyball coaches are enjoying their first summer to coach their athletes.
In fact, it's happening all around the state for the first time. Changes to a Kansas State High School Activities Association rule has pleased the Bulldogs' coaches.
"I thought it was a long time coming," BHS boys' basketball coach Eric Toot said. "It had been in the works for a couple of years. I was excited and happy to see it passed, because I thought the three sports that had to follow the rules were getting hurt and not getting as many opportunities as other sports."
In September, the KSHSAA amended the rule governing coaches contact with athletes. All sports are required to complete their team camp before July 18. However, the rule affecting basketball, football and volleyball teams brought smiles to the faces of coaches.
They now have an eight-week period, which began May 23 and ends July 18, to coach their athletes without restriction, like other sports. Coaches may accompany their team to college camps, conduct their own camp at their school and serve on the staff of a college camp without regard to a 10 percent limitation. Coaches may also coach their athletes individually, in groups, in open gym settings and in competitions, such as summer leagues.
"Our coaches absolutely love it," BHS Activities Director Gary Stevanus said. "They are able to coach their kids during summer leagues or games. They can't have a required practice by any means, but they can have their whole team at a workout."
BHS coaches are thrilled to be interacting with their teams this summer in different settings than past years.
"I was excited, because I know we had a lot of players that are willing to put in the time to get better," BHS football coach Mike Berg said. "We've only been able to lift weights and condition, but now we're able to add the football, which is exciting."
BHS volleyball coach Kelly Brown believes the new rule will benefit the athletes, because they will receive more instruction from their coaches.
"I really like the new rule," she said. "I think everybody is going to take advantage of this, especially the kids. I think you could go overboard with it, but we're trying not to work them too hard. It's going to be very beneficial to everyone, especially the kids."
Working their athletes too hard during this first summer is a concern of all the BHS coaches. It's a fine line they are trying to walk during this inaugural year of coaching in the summer.
"The one thing we're trying to feel out is how much to be involved," BHS girls' basketball coach Bob Martin said. "Kids need their summer and they need to enjoy it. We don't want to burn them out. We're trying to find that line of how much to be involved and how much to let them have their summer. That might take a couple of years to figure out."
During all previous summers, coaches of these three sports were restricted by KSHSAA rules. They weren't allowed to coach during summer leagues or camps. They could only work with a certain number of athletes at one time. That number was three players in basketball, four in volleyball and six in 11-man football.
Since the summer began, all four BHS head coaches have been utilizing the new rule. Brown has been coaching her team during summer league matches in Wellsville and other area cities. Berg and his coaches have been holding workouts three mornings a week.
Martin and Toot are in the gym on Tuesday mornings with dozens of basketball players. Martin is coaching his team during the Baker Summer League, while Toot did the same at the University of Kansas team camp over the weekend.
"In the past, I've had to bring them in separately so it's actually saving me a lot of time," Toot said "We've had 30-40 boys and girls every week. The kids are excited about it and we've had four to five coaches there. We can also sit and help our kids during summer leagues. It's really helped us in that way. It's been really good."
The basketball coaches aren't implementing any offensive or defensive schemes during the summer. Instead, they are working with their players on fundamentals and improving their own skills. Martin also believes the players are adjusting well to the new rule.
"I think the fact that we can get a number of them to come and work out only encourages more of them to come," he said. "Once a week works well right now, but I'm not sure if we should do it more than that or not. We'll figure that out as we go."
Berg and his coaches have been teaching their players schemes and terminology that they'll use in the fall. He hopes the extra time spent on the field will pay off during early season practices in August.
"I think it prepares them to learn the game better," Berg said. "They'll also know what to expect when the season starts. Once practice starts, we can spend more time on the action, because they understand the terminology and what we expect from them."
Once the coaches figure out how much is just enough during the summer, they'll be fully enjoying the rule change.
"That's exactly what our staff has talked about," Berg said. "We don't want our guys to be burned out, but we also don't want to do nothing. We want to provide the opportunity so that the guys who really want to excel can have that opportunity."