Building a safer road for U.S. 59
Long-awaited improvements expected to decrease accidents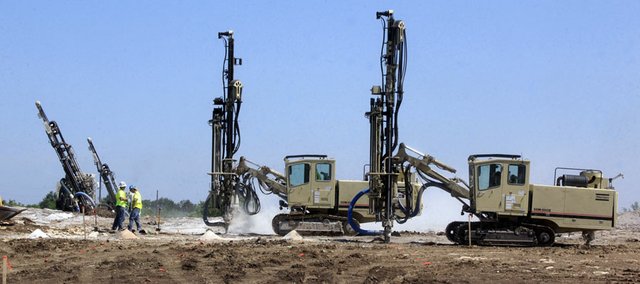 PLEASANT GROVE — To his right rises Pleasant Grove hill, a slope so steep and stripped of vegetation that it could pass for a summertime ski slope.
To his left, past a single crane in the distance, rests the city of Lawrence, the community whose drivers await an opportunity to avoid the harrowing two-lane danger zone that carries them south toward Ottawa.
Here in the middle, Jason Van Nice pores over a set of plans — hundreds of pages detailing locations for rock, concrete and steel that will form a new four-lane freeway, one with such limited access and improved sight lines and roadside shoulders that driver safety will be expected to rise, well, exponentially.
And for that, the construction manager for the Kansas Department of Transportation can hardly wait.
"This project's been a long time coming," Van Nice says, as crews pour concrete for a massive 300-foot-long box culvert that will funnel a creek beneath the new highway. "From concept to design planning, it's been 10 or 15 years. And people who know Lawrence know how much this is needed.
"It's not very often that we get to build something like this, that's completely new. It's new territory for us. It's new ground. We're really breaking new ground over here."
The project to build a new four-lane, limited-access freeway east of the existing U.S. 59 from Lawrence to Ottawa is speeding toward completion by late 2012 or early 2013.
And while the 6.7-mile stretch of highway in Franklin County already is prepared for its new surface, the 11.1-mile stretch in Douglas County only now is starting to reveal its shape.
Safe investment
Crews are busy blasting rock, moving soil, pouring drainage culverts and building bridges as part of a $57 million contract that represents only a fraction of the overall project cost, now estimated at $213 million.
For the money, drivers will see plenty of changes:
• Driveways and side roads no longer will connect directly to the highway. Instead, sections of the existing U.S. 59 will serve as frontage roads, and traffic entering the new highway will need to do so at interchanges designed to allow drivers to get up to speed before merging into traffic. Interchanges in Douglas County will be at Wells Overlook Road (also known as North 1000 Road and Douglas County Road 458), North 650 Road and U.S. Highway 56.
• The speed limit will be 65 mph along the highway, up from the 55 mph on the existing U.S. 59.
• Roadside shoulders — 10 feet wide on the outside, and 6 feet wide on the inside — will give drivers a place to pull over and repair a flat tire or answer to a law enforcement officer.
• Four lanes of traffic the entire way, instead of sections of two-lane travel that can frustrate travelers and prompt some to attempt ill-advised passes.
"It will be great for traffic," said Kim Qualls, a KDOT spokeswoman.
But the work is by no means easy.
Having a blast
In Douglas County alone, crews are in the midst of building 23 bridges, a total that includes some of the large culverts that will channel creeks beneath the highway.
One day last week, blasting crews were perforating a hill south of North 500 Road with four-inch-wide holes, each cutting through 16 feet of soil to get into 8 feet of limestone. All that was left was to pour in 27 pounds of ammonium nitrate and diesel fuel, detonate, and remove the resulting crumbles for recycling and to use later in the project.
Then repeat the next day, and the next, and the next until cutting through two more hills on the way to Pleasant Grove Hill — which needs to come down some 80 feet — later this summer.
It's a tall task that Bob Taylor, a licensed blaster for the Pexco contract crew on site, actually looks forward to.
"It's easier, the deeper you get," he said. "The rock's better. Harder. The harder the rock, the better."
Van Nice, KDOT's construction manager, is looking forward to the future, too. The department's studies to justify construction of the new highway included some sobering statistics:
• During the five years from 1995 through 1999, the stretch of highway had 376 accidents, of which 110 had injuries and nine involved fatalities. Eleven people died.
• The stretch had four fatalities for every 100 million miles traveled, compared with a rate of 2.7 fatalities on other, similar highways statewide.
"Hopefully we won't have to hear any more about these fatalities that we've had over the history of the current roadway," Van Nice said. "It'll be just a tremendous, huge improvement."