Neighbors: Myra Glover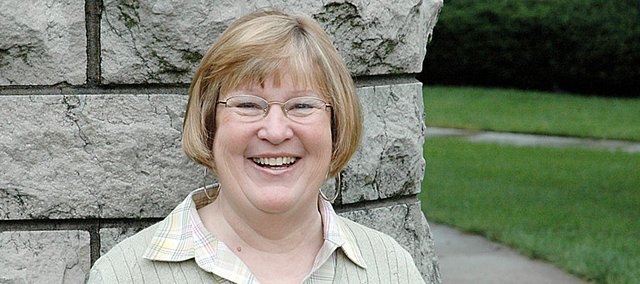 Name: Myra Glover
Occupation: Executive assistant in president's office at Baker University
Family: husband – Bill; adult sons – Chad- financial and investment advisor in Overland Park and Blake – assistant district attorney in Collin County, Texas, and his wife, Hailey – high school English teacher and actress.
Place of birth: Lexington, Mo.
Q. How long have you lived in Baldwin City and what brought you here?
A. 14 years; my husband Bill and I grew up in towns very similar in size to Baldwin City. The educational opportunity in the Baldwin school district was, and still is, exceptional. The presence of Baker University in a community of this size was the icing on the cake. We love the community and all of our friends.
Q. What's the biggest risk you've ever taken?
A. I'm not a big "risk taker." I have changed careers at various times in my life and that is always a bit of risk.
Q. What's the best piece of advice you've ever been given?
A. My Grandmother Alumbaugh, who was the biggest influence in my life growing up, quoted the "Golden Rule" to me on a daily basis. I have always strived to live by it. I believe it is not always about whether something is right or wrong but most importantly, the fairness of the situation and how you treat others.
Q. What two things would you want people to know about you?
A. My family is the most important facet of my life and I love to laugh!
Q. What did you want to be when you grew up?
A. A star on Broadway – I love being in front of people!
Q. What's the best way for you to get away from it all?
A. Outside listening to my iPod!
Q. What's your ideal vacation spot?
A. Anywhere on the water – Florida is nice!
Favorite things
Song: Rhapsody on a Theme of Paganini – Variation 18 by Rachmaninoff
Movie: To Kill A Mockingbird
Color: orange, of course
Food: fresh strawberry shortcake