Musical ends with largest audience ever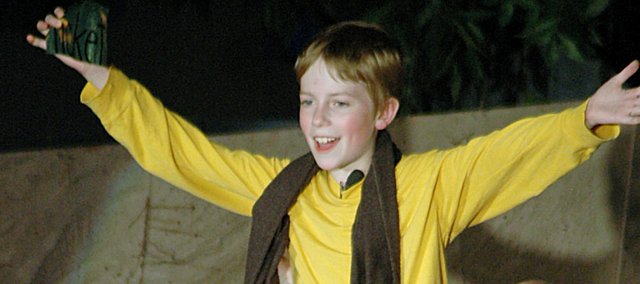 Record crowds and nice weather helped make "Willy Wonka and the Chocolate Factory" a success this summer.
The Baldwin City Community Theater's musical ended its two-week run with its largest audience ever. BCCT President Marion Constantinescu was pleased with the summer show and the increased attendance.
"It went really well," Constantinescu said. "We had record crowds this year. We doubled our attendance from last year, which is really exciting. We had over 300 people on Saturday night. On an average, we had about 100 per night. For a couple of nights, we had over 200 and then on Saturday, we had our largest crowd. It was great."
Constantinescu gave two reasons for the increased attendance this summer. First, the musical starred many children, which attracted parents and other relatives to the show. Second, the weather cooperated most nights. The only problem came on June 7, when the musical had to stop during the second half of the show because of lightning and rain.
"We kind of had the performances between the big rain storms, which was nice," he said. "We had some really nice nights and I think the audience enjoyed the cool nights."