Father's Day weekend event set to roll with old, new attractions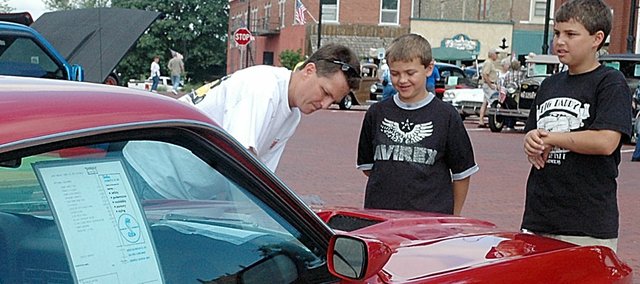 Baldwin City's annual Father's Day weekend event is set to go with several modes of transportation in and around the town.
On Saturday, the attractions will include cars, motorcycles, airplanes, trains, bicycles and even running. Add in some children's activities, craft booths, food vendors and a pancake feed and Baldwin City will be a busy place.
Organizers are trying to make Planes, Trains and Automobiles an event that families can visit during the holiday weekend.
"We tried to diversify the event this year," said Steve Friend, event organizer and Baldwin City Recreation Commission director. "We wanted to give moms a reason to come downtown. We didn't get as many booths as we would have liked, but maybe we'll get a good turnout, which will attract more booths next year. We also have activities for the children, too. Plus, plenty for the dads to see all day long."
Planes, Trains and Automobiles officially kicks off Friday night with the outdoor movie. At 9 p.m. in the "lotatorium," located between the post office and Lumberyard Arts Center, the movie "Cars" will be shown. Guests are asked to bring lawn chairs or blankets to lounge on while watching the movie.
The main attractions of the event are the car and motorcycle shows, which both run from 8 a.m. to 3 p.m. Saturday. The antique, classic and street rod car show will fill several downtown streets. Cars will be parked on High Street from Seventh to Eighth streets and also on Eighth Street from Grove to Indiana streets.
Friend said he wasn't sure how many cars would be in the show, but there have been between 50 and 100 each year. However, he said a car show in Garnett usually had 50 each year but 300 showed up this year.
"It's hard to say how many cars will be here, because there are so many factors involved," he said. "It depends on the weather or what else is going on in the area."
The same can be said for the vintage motorcycle show. It will be held at the Antiques on the Prairie parking lot, which is located at the corner of Sixth and High streets. Stan Vickers, vintage motorcycle show organizer, is hoping for a large turnout this year.
"I hate to put a number on how many might be here, but we hope a lot of people will come out for the event," Vickers said. "Hopefully, we'll have a number above what we've had before. It's supposed to be a nice day with great weather."
The Vinland Airport, four miles north of Baldwin City, will be busy from 9 a.m. to noon. Youths, ages 8-17, will be given free airplane rides, but a parent or guardian must sign a waiver form.
After the children enjoy a free airplane ride, the fathers can go ride the train for free at Midland Depot, located on the west end of High Street. Dads ride free with another's paid admission. Tickets are $10 for adults and $5 for youth. The trains leave at 11 a.m. and 2 p.m.
Free shuttle rides will be given to the Vinland Airport and Midland Depot. The shuttle will leave from the corner of Ninth and High streets in downtown. The airport shuttle will be given every 30 minutes, beginning at 8:30 a.m., while the depot shuttle will be available 30 minutes prior to the train departure and 30 minutes after the train returns.
"I'm just finalizing everything this week and making sure everyone is set to go," Friend said. "Now if we can just make sure the weather is good."
On Saturday morning, a pancake breakfast fundraiser will start at 7:30 a.m. and end at 10:30 a.m. Pancakes, sausages and drinks will be served. All tickets are $5 and the proceeds will benefit the Planes, Trains and Automobiles event. The breakfast will take place at Hickory Creek Barbecue, located between Seventh and Eighth streets on High Street.
The Baldwin Running Club will be hosting a 5-kilometer run. It will start at 8 a.m. at the Baldwin City Municipal Golf Course. Runners may register from 7 a.m. to 7:45 a.m. Saturday. Cost is $20 (with t-shirt) or $10 (no t-shirt).
Bicycles will also be a new attraction this year. There will be a vintage bicycle show and ride, along with a historical gravel road bicycle ride of the Baldwin City area.
The vintage bicycle show begins at 8 a.m. Those interested in the vintage bicycle ride should meet south of the fire station at 8:30 a.m. The gravel road riders will also meet at the same place and time. Bikers will have a choice between a 12.5 and 25-mile ride.
The event will end at 3 p.m. with award presentations. The car show awards will be given out, along with the Father's Day essay presentations. All of the awards will take place at the corner of Eighth and High streets.