BHS

girls' basketball, volleyball camps run same week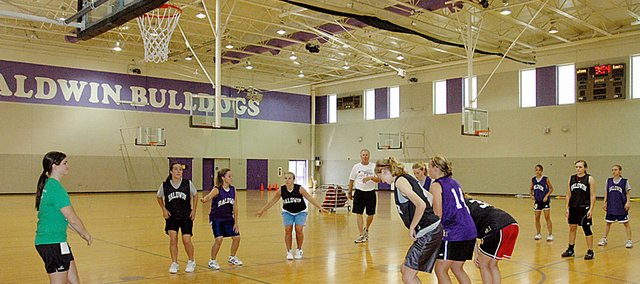 High school summer camps have started in Baldwin City and it turns out holding two during one week can be strenuous, especially for those students who play on both teams.
Ramie Burkhart was one of a few Baldwin High School athletes who attended the volleyball and girls' basketball camps during the first week of June. For Burkhart, the summer started early. She completed her track season two days before the camps began.
"Oh, my gosh, it was so hard and exhausting," Burkhart said. "I didn't like having both camps on the same week. It helped that I was still in shape from track, but that's about it."
For the several Bulldogs who did double at the camps, it was grueling. They would play volleyball from 9 a.m. to noon, then take an hour for lunch, before returning to play basketball from 1 p.m. to 3:30 p.m.
"It got really tiring by the end of the week, because we just had an hour break in between," Burkhart said. "It was hard to go to basketball camp after three hours of volleyball."
From the eyes of the two coaches, the fatigue was noticeable. However, both agreed they didn't really see signs of exhaustion until the final day of the camps.
"The girls looked good most of the days," BHS volleyball coach Kelly Brown said. "During days two and three, they looked a little tired, but by day four they were tired because some of them had basketball camp, too."
Although the timing of the camps might not have benefited the players, the coaches had similar philosophies about their respective camps. Both coaches wanted to avoid the fundamentals as much as possible and make the camp enjoyable.
BHS girls' basketball coach Bob Martin said he wanted his players to play the game, but have fun.
"It was fun," Burkhart said of the basketball camp. "We did a lot of competition stuff, which made it a lot more fun. We tied everything into some fundamentals, but everything was a contest. At end, we all added up how many contests we won and there were prizes."
For Brown, she wanted her players to enjoy the game of volleyball before the season starts in two months.
"There is so much going on in the summer, that for me, it's less about winning the game and more about the little things," Brown said. "I want them to focus on where they should be or how to play the ball in certain situations.
"The main thing is I want them to have fun," she said. "There are going to be some nights and situations during the season that aren't fun. They will have to work a lot harder than they are working this summer. At some point, they need to have fun playing the game, so they don't lose their love for volleyball."
Both camps had similar numbers during the week. The volleyball camp had 30 girls attend, while the basketball camp peaked out at 31, which included 18 incoming freshmen.
"Our camp date is usually later and we've had more girls in past years," Brown said. "A lot of them just finished track or softball right before camp or they already had other things going on that week. I don't think many of them were quite ready for volleyball."
While both coaches scheduled their camps during the same week, they also hoped the timing would benefit their players. They hoped taking advantage of the first week in June would enable their athletes to be prepared for other summer camps, tournaments and contests.
"We wanted to get it done as early as we could," Martin said. "We have a lot going on in June, so we wanted to have our camp before we played in summer league games or camps."
The basketball team began playing in the annual Baker Summer League Monday night, which gave them a chance to put their skills from camp to use on the court.
"It's always great to get together with the team before playing Baker League, so we can see what everyone is best at to make our team better," junior Myranda Behrens said. "Baker League is a great experience for the team and I think we have potential to be good this upcoming season. We have a lot of players who are contributing this year, which helped us to both wins to start out Baker League."
The same can be said for the BHS volleyball campers. Since completing their camp, the Bulldogs have been actively playing area squads in summer league games during the week. They play in Wellsville twice a week against area schools.
"Many of the girls are so busy during the summer with other sports or work that it's hard to get the same girls playing each night," Brown said. "There are actually 16 girls playing here. I'm just happy this gets them playing and thinking volleyball for two nights a week."
In the end, the camp is about the players.
"I enjoyed the camp," Burkhart said. "We played a lot of games and we scrimmaged a lot during the week, too."