Tradition of Thomas keeps families coming back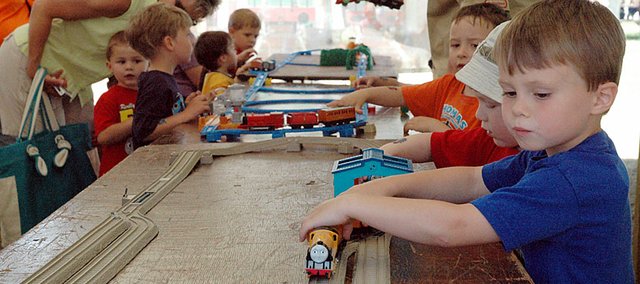 Photo Gallery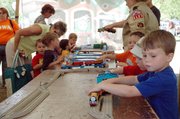 Thomas the Tank Engine 2009
A Day Out With Thomas rolled through Baldwin City for two weekends. The annual event drew thousands of people to the Midland Railway.
Since moving from California to Kansas in 2007, Beck Rettenmaier has traveled to Baldwin City to visit his favorite cartoon train three times.
Of course, at age 4, he can't drive himself. His parents, Paul and Debra Rettenmaier, ride from Leawood as a family to see Thomas the Tank Engine.
"We came here almost right after we moved here," P. Rettenmaier said. "We saw it once and now we come back for good. Now it's sad when you go in the merchandise tent and there's nothing you can buy, because you have it all."
On Saturday, the Rettenmaiers visited Thomas at the Midland Depot for their third time. The event has become part of their summer plans, as they enjoy the short ride from the Kansas City metropolitan area.
In fact, P. Rettenmaier said he couldn't imagine visiting Thomas the Tank Engine anywhere except in Baldwin City.
"He loves it," P. Rettenmaier said of his son. "He is a big Thomas fan, so we come back each year. We enjoy our drive in from the city. We don't often drive out to countryside much. We love getting out here. We've talked about it and there is nowhere else we could picture it, other than here. This is the perfect setting for an event like this."
The Rettenmaiers were one of hundreds of families that came to Baldwin City for the annual A Day Out With Thomas event during the past two weekends. Families came in from all across the country, but most were from Kansas.
Joshua Blick and his son, Pierson Blick, 3, drove up from Wichita on Friday. J. Blick is originally from Osawatomie, so he said he's familiar with Baldwin City.
"This is pretty awesome," J. Blick said. "It's a great experience for the kids. It's also good for the historical society and the railroad. Your town is amazing. It was neat to drive past the old football stadium again when we drove into town."
The Blicks spent several hours at the depot Friday. They rode the train, watched the magician, played with the toy trains and saw Sir Topham Hatt. J. Blick said all of it is part of the Thomas experience.
"He's having a great time," J. Blick said. "He had an attitude when he came in, but when he saw Thomas, he put the hat on, backpack on and he went to town. We bought our tickets like four months in advance."
Thomas left town Sunday afternoon for another year. If he returns next year, one family that might be back is the Rettenmaiers.
"It's a little getaway that is only 40 minutes away," P. Rettenmaier said. "There is so much for him to do. It's great family time. We also try to support the vendors so we buy hamburgers or hotdogs from them. This has become a ritual for us now."