Planes, Trains and Automobiles event adds new attractions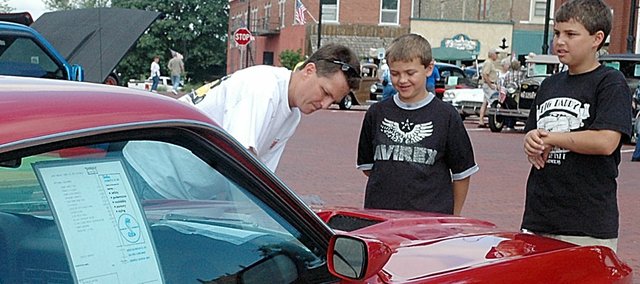 Planes, Trains and Automobiles organizers are trying to spice up the annual Father's Day weekend celebration with a handful of new attractions.
Whether it's a pancake breakfast, vintage bicycle riding, running or arts and crafts you enjoy, you'll have plenty to do in Baldwin City on June 20. Of course, that's on top of the usual car and motorcycle show, airplane flights and train rides.
"We're trying to add to it a little bit each year," said Steve Friend, event organizer. "Adding the pancake feed, a running event and the bike stuff is a bit different. If people want some exercise, they can do that, too."
One of the additions this year will be free shuttle rides from downtown to the Vinland Airport, north of Baldwin City. Friend will be transporting visitors every 30 minutes from the corner of Ninth and High streets to the airport, beginning at 8:30 a.m.
He will also be giving free shuttle rides to the Midland Depot. The trains depart at 11 a.m. and 2 p.m. Rides to the depot will be 30 minutes before departure and after the train returns.
"We don't want people to drive from here and go to the train depot or Vinland," Friend said. "If they get in their cars when they're done, we've lost them. They will go somewhere else. We want to make it easier on them, too."
This year's event will begin with a pancake breakfast fundraiser. It will start at 7:30 a.m. and end at 10:30 a.m. June 20. Pancakes, sausages and drinks will be served. Tickets are $5 in advance and $6 at the door and the proceeds will benefit the Planes, Trains and Automobiles event. The breakfast will take place at Hickory Creek Barbecue, located between Seventh and Eighth streets on High Street.
Several other new events will begin Saturday morning. The Baldwin Running Club will be hosting a 5-kilometer run. It is currently scheduled to start at 8 a.m. at the Baldwin City Municipal Golf Course.
This year's Planes, Trains and Automobiles will be adding a taste of the ever-popular Maple Leaf Festival to its schedule. From 8 a.m. to 3 p.m., arts and crafts booths will be set up all around downtown Baldwin City.
"That's new this year and it will take a while to catch on," Friend said. "For this first year, they will just be scattered around wherever. We want people to mingle. We don't want people to just go to one area. We want them to go up and down the street to see everything that is available."
Bicycles will also be a new attraction this year. There will be a vintage bicycle show and ride, along with a historical gravel road bicycle ride of the Baldwin City area.
The vintage bicycle show begins at 8 a.m. Those interested in the vintage bicycle ride should meet south of the fire station at 8:30 a.m. The gravel road riders will also meet at the same place and time. Bikers will have a choice between a 12.5 and 25-mile ride.
"The Gravel Road Ride is special, because it connects all of the famous historical markers in the Baldwin area," said Gerard Arantowicz, bicycle ride organizer. "It follows Quantrill's Trail and the Santa Fe Trail. It connects famous landmarks such as Hickory Point, Dow Cemetery, Signal Oak Lookout, the Battle of Black Jack site, the Brooklyn landmark and we ride by the Santa Fe Trail Ruts."
"This ride is educational as well as challenging," he said. "I designed this course six years ago, and I'm excited to add this event to the PTA festivities."
There will be an entire preview of the Planes, Trains and Automobiles event in next week's Signal.