Kaitlyn Barnes rewrites
BJHS

record book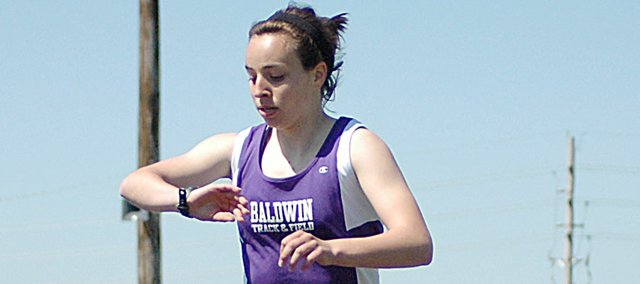 In two years, Kaitlyn Barnes did her best to rewrite the Baldwin Junior High School track record board.
She finished her remarkable career — 13 BJHS records, four Frontier League meet records and dozens of victories — in May with maybe her best meet. The BJHS eighth grader won three of her four races and finished runner-up in the other. She set three league meet records that Saturday afternoon.
"I had a great day," Barnes said. "I couldn't really hope for anything more. It was a really good meet."
She only lost two races this spring. Both of those were in the 100-meter hurdles. She never lost any race over 400 meters, including any relay she ran.
Barnes' success as an eighth grader never shocked coach Angie Spielman. In fact, her coach never doubted her star.
"She definitely exceeded her already high expectations," Spielman said. "Coming into the season, I knew she did some work in the winter. This year we worked on her speed more, which helped in her races. Her times came way down.
"She is such a competitor," she said. "She knows exactly what it takes, she gets herself prepared, nothing intimidates her and she does the work. There's not much else you can do. As a coach, you just give her times to hit and she does."
At the Frontier League meet, Barnes won the 800- and 1,600-meter runs. She ran 2:24.28 in the 800, which broke the meet record from 1997. Amanda Morford, a 2001 Baldwin High School graduate, held the record at 2:33.8.
Barnes won the 1,600 by nearly 19 seconds as she ran 5:34.64. That also broke Morford's league meet record of 5:40.7.
"It feels great to get those records, especially since it's my eighth-grade year," Barnes said. "I was shooting for PRs in the 800 and mile. I had four races today, so I wasn't expecting to run a lot better than I have before. I'm happy."
Although she won both races, Barnes had run faster in both events earlier in the season. She won the 800 in a time of 2:22.8 at the BJHS home meet. That time beat the school record, which was 2:26.4. The previous record was held by Heather Garcia, 2008 BHS graduate, who won eight gold medals at the state level while at BHS and owns all three BHS distance records.
"I know my 800 time was a lot better than I expected this year," Barnes said. "That was nice. I was hoping for a good year so I could have a chance at those records."
At the time Barnes ran 2:22.8, she would have ranked 10th in the state of Kansas among high school girls.
"That was exciting to know," Barnes said. "(Coach) Mike (Spielman) gave me the Web site and I went on there and saw my name. That was really cool."
During the season, she also broke Garcia's 1,600 record. Barnes ran a 5:31 at a meet, which beat Garcia's mark of 5:33.5 from 2004. Barnes' other individual school record was the 400-meter dash. She ran 1:01 to break the 2002 record of 1:02.6, which was held by Katelyn Miles, 2006 BHS graduate.
Her other league meet record came in the 1,600-meter relay. The Bulldogs ran 4:26.64, which beat the old mark by five seconds. The Bulldogs set the BJHS record at 4:18.8 at the home meet. The old BJHS record was set in 2002 at 4:28.2.
"They are a very solid group of girls," A. Spielman said. "To break that 4x400 record by 10 seconds is incredible. It takes more than a 60-second anchor."
Barnes also helped three other relay records. They were the 400-, 800- and the 800-meter medley. BJHS ran 54.4 in the 400 relay, breaking the previous record of 55.0, which was set in 1978.
The 800-relay team ran 1:54.4, which shattered the 2003 record of 1:58.6. The medley team ran 1:58.4 to beat the 2002 record, which was 2:02.1.
"It's always more exciting with teammates, because it makes you more happy to run with them," Barnes said. "It's just more fun to break a record with them than by yourself."
Barnes tried to break one more school record and never had her chance to break another, which she might have done, if given the chance.
"We tried for the 200 record, but it was just at one meet," A. Spielman said. "She almost broke it, so she has speed and endurance. She didn't run the two mile, because it was always too close to her hurdle race. I think she could get that one, too."
Now she heads into BHS in the fall with high expectations surrounding her, but she's ready for the challenge.
"I'm hoping it carries over to next year," Barnes said. "I'm really excited about cross country next fall."