Springer lauded as top
SRO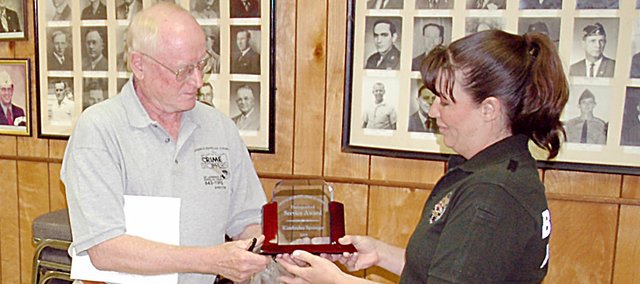 Work by Baldwin City Police School Resource Officer Kim Springer brought her an honor at Monday's city council meeting – the 2009 Distinguished Service Award.
The Douglas County Crime Stoppers organization presented the award, but also noted that Springer's position has been eliminated by the Baldwin School District because of a lack of funding.
"We hope to talk to the school board later this month," said Patrick Rapp, president of Crime Stoppers, a Lawrence-based volunteer group that offers rewards for people who report crime. "We feel your School Resource Officer has done above her duty."
Springer instituted an anonymous tips line just for Baldwin students two years ago. Students can call (785)423-1789, where they can leave a voice mail to report a crime, threat or other problem. They can do it anonymously and it's worked many times.
"The SRO Hotline turned out by default to be an extra phone line to Crime Stoppers," said John Brandt, director of the organization. "We have learned kids won't call the cops. That's snitching.
"There is one person in Baldwin City who gets those calls. That's Kimberly Springer," said Brandt, noting an average of 40 calls per month are made, including 500 between the hours of 10 p.m. and 3 a.m. "The board is proud to recognize the program in the schools here."
Springer, who remains a Corporal with the police department, accepted the award from Brandt.
"I appreciate this as the result of the hotline we started two years ago," said Springer. "The kids use it all the time, the parents use it all the time. It's a shame that the program is being ended."
Mayor Ken Wagner congratulated Springer and said the city would be reviewing budgets and possibly something could be done.
"We are disappointed that the funding has been pulled," said Wagner. "Maybe we can revisit that."
Springer has been paid on a 50-50 basis by the city and school district.