Howard jumps to fourth in discus; two hurdlers medal at state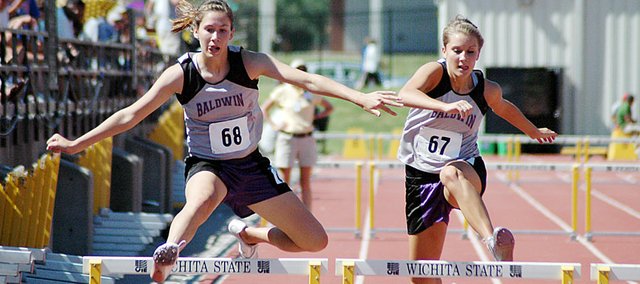 WICHITA — Baldwin High School sophomore Allison Howard saved her best toss of the weekend here for last.
After two flights of the discus, Howard sat in third place with her mark of 119-feet-5. Before her final attempt, she slipped down to fifth place.
"I knew coming in that I always throw good here," Howard said. "I felt good in warm-ups and thought it was going to be a good day. I thought I had to win my flight to make finals and I did that."
On her final throw of the event, Howard launched the discus to a new personal-best mark of 121-5. That beat her old best by a couple of inches and it was good enough to move her up a notch on the standings.
"It was really exciting," Howard said. "I came in sitting 10th and I threw a PR on my last throw. That moved me from fifth to fourth place."
As a freshman, Howard placed sixth in the discus at state with a mark of 120-10. Coach Ted Zuzzio was thrilled to see her earn another state medal, because she works so hard at her event.
"She's a really hard worker and she studies her events," Zuzzio. "She's a true competitor. She has great technique and the will to win."
Baldwin's two other state medalists came in both hurdle races. Sophomores Lyndsey Lober and Ramie Burkhart each placed seventh in their events.
Lober entered the 100-meter hurdles with the fifth best time (15.89) in the preliminary races. In the finals, she ran a bit slower (16.47) but still managed to hang on for seventh place.
"I was happy to stand on the podium, but I know I didn't run one of my greatest times," Lober said. "I don't know what it was today. I don't think my head was completely in the race."
"I didn't make it out of prelims last year, so this was quite an improvement," she said. "I will move up on the podium my next two years."
Meanwhile, Burkhart squeaked into finals of the 300-meter hurdles by 0.05 of a second as she ran 47.93. In the finals, Burkhart improved her time as she edged out sophomore Myranda Behrens for seventh place. Burkhart ran 47.73 in the finals.
"We did run our best times in the hurdle races," Zuzzio said. "We ran times that we ran all year, but they were good enough to get into the finals. I was happy that we had two of them stand up on the medal stand."
Zuzzio said he was excited as a coach to see all of the support for the Bulldogs in Wichita.
"It was very rewarding to myself and the other coaches to see all of the parents and family members that were supporting their children over the weekend," Zuzzio said. "Baldwin was well represented off of the track. That was pretty special."