Bulldogs' 3,200 relay places fourth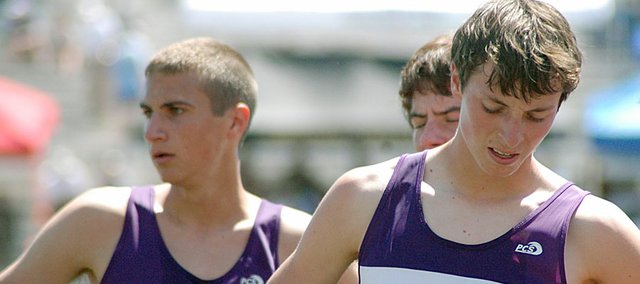 WICHITA — Although it wasn't what they were hoping for, the BHS boys' 3,200-meter relay team left here satisfied with its performance.
High expectations heading into the race fizzled when three other schools ran near the Class 4A state meet record. When it was all said and done, Mulvane's time of 7:58.83 did break the record by more than two seconds.
"This year, especially in 4A, there were some great 400 and 800 runners all across the state," Spielman said. "There were lots of them. Our time in the 4x800 this year was six seconds faster than the winning time last year, but we finished fourth."
Baldwin ran 8:11.21 en route to its fourth-place finish, behind Osawatomie and Wamego.
"We ran really well," sophomore Tony Weiss said. "Mulvane came out of nowhere, like they usually do. I think next year, we should do well in that race again. Three of us were underclassmen so maybe we can move up next year."
Baldwin was in the top three after the first leg of the relay. During the next two legs, the Bulldogs gradually fell behind the top teams. When senior Connor Wright received the baton to anchor the relay, he was 50 meters behind third and ahead of fifth. He was able to run a bit slower than normal as the Bulldogs' placing wasn't going to change.
"We are a young team," Wright said. "We were kind of in no-man's-land after a bit, but the teams ahead of us ran really fast. If I would have run what I normally run, we probably would have run a PR. Sorry, guys."