Like father, like son?
Hannon trying to make career of professional baseball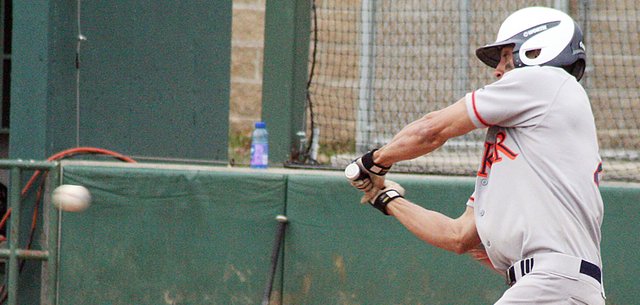 Andrew Hannon is trying to follow in the footsteps of his longtime coach and mentor — his father.
Since finishing his career at Baker University, the 2004 Baldwin High School graduate has aspirations of playing professional baseball. Athletics have been a huge part of Hannon's life since he was a young boy, so he wants to know if he has what it takes to play at the next level.
"My dad taught me the basics when I was growing up. I got better and then I began to enjoy it more," he said. "I played both baseball and basketball during the summer in junior high and high school. Sports have pretty much been my life."
His father, Phil Hannon, continued his baseball career after college. He went on to play minor league baseball in the Chicago Cubs organizations for five years and coached for three more. After exiting the professional world in 1994, Phil took on coaching as a career.
He was hired as Baker University's baseball coach in 1999. He's also been Andrew's coach, when he was growing up and even in college. Now, Phil might see his oldest child play professionally, just like he did for so many years.
"I have really enjoyed coaching him," Phil said. "I spoke to an athletic group about baseball this past spring. One of the things I mentioned was that the highlight of my career was playing minor-league baseball. But the highlight of my career during the past several years has been having Andrew on my team."
Missing the diamond
Like many young boys, Andrew became interested in athletics. He also played a sport his father enjoyed and excelled at — baseball. Of course, he also enjoyed playing football and basketball. He excelled at all three sports during his years at BHS.
"I played with Andy during my freshman and sophomore years of high school," said Jeremy Wright, 2006 BHS graduate. "I got to witness first hand the type of ball player he was on the field as well as the type of leader he was. Everybody knew he was a great football and basketball player, but he was a star on the diamond, too. He had the respect from me and the rest of the team because everybody knew he would go out and give it his all and do what it took to be the best."
When the time came to make a decision about which sport he would play in college, Andrew had a tough choice. He could attend Baker and play baseball for his father or play any of the three sports at another university.
In the end, he did stay in Baldwin City and go to Baker. However, he chose to join Rick Weaver's basketball squad. After one year as a Wildcat, Andrew decided he would give baseball another try.
"After my freshman year, basketball went all right," he said. "But over the summer I really missed a lot. I asked my dad if I could come out and he said 'We'd love to have you.' That's pretty much how it started and I had fun doing it."
His father was happy to let Andrew join the Wildcats' team.
"I was glad he wanted to play, from the standpoint of where my team was at that time," Phil said. "We could really use his athleticism. So his first year, he ran the bases for us and he helped us out in the outfield. From a coaching standpoint, I was glad to see that he could come out and help our team win some games."
For the next three years, Andrew played baseball and basketball for Baker. He was busy year round with Wildcat athletics. He finished his basketball eligibility in the winter of 2008, but stayed at Baker to play his senior year of baseball in 2009.
This spring, he was the starting right fielder for the Wildcats. He played several positions while on the team, but landed the outfield spot his senior season.
"I enjoyed it a lot. I met a lot of great guys," Andrew said. "Baker plays in a tough conference and a couple of teams always go to the national tournament, so there was good competition. Playing for my dad was a good experience. It wasn't difficult, because he treated me like everyone else. I enjoyed my experience playing there."
Wright, who also played with Andrew at Baker, enjoyed teaming up with his former BHS teammate once again.
"It's crazy to see how he maintained his baseball skills even after just playing basketball the first couple of years," Wright said. "At Baker, his same leadership qualities carried over. He put the team first and would do anything it took for us to win the ballgame. Andy has always been somewhat of a quiet guy so when he has something to say at practice or at games; everybody took it in because, again, the team respected him for the way he plays."
Taking the next step
Once Andrew's spring season at Baker came to a close, he began thinking about playing professional baseball. He talked to his dad about the idea and Phil told him to give it a try and see if something happens.
In June, Andrew attended a Kansas City Royals' tryout. He tried out as an outfielder at the workout. For his first professional tryout, he was pleased.
"It went pretty well," Andrew said. "Pretty much all we did was run a 60 (yard sprint) and did some outfield drills. We didn't get to hit, because a storm came in. So it was cut pretty short. It was a good experience, but I haven't heard anything back from them. It was a fun time and I'm glad I did it."
Soon after that tryout, he attended another one in Omaha, Neb. Nearly every major league team had a scout there. To ease his nerves, Andrew attended the workout with Eric Brown, a 2002 BHS graduate. Andrew performed the same type of drills at both tryouts and also played in a scrimmage with many of the other players.
"It was fun and I'm glad I did that one, too," he said. "It showed me what they are really looking for and what the process is for everything. I'd say one quarter of the players shouldn't have even been there. About one half were about my ability, but there were a few that were really good. There were quite a few good players at that tryout."
His latest workout came a few weeks ago in Lawrence. His father contacted a Cleveland Indians scout for Andrew and Brown. They each worked out individually and received some tips from the scout.
"He told us what the scouts are looking for and what we can work on to get better," Andrew said. "He basically said my skills were average for the major-league level, which he said was a compliment. He said the best way for me to move up is to try out for some independent league if I wanted to pursue my career any more. I might think about doing that, but maybe a little later."
His father agrees with the scout, saying that Andrew should try to play on a smaller team first and see where that might lead him.
"The biggest thing now adays is there are more opportunities to play on a team somewhere," Phil said. "I know everybody wants to play for a major league organization. The whole thing is to keep a uniform on. That's why I'm kind of advising him to extend his career and maybe a scout might pick him up if he plays for an independent league team, if that's what he wants to do."
Phil also believes his son has the necessary skills to play at the next level.
"When the scouts look at tools, they look at speed, defense, arm strength, hitting and hitting for power," he said. "With his speed, he plays good defense. He's also got a pretty good arm. He had three tools that they look for. If he could put the ball in play on a consistent basis, he could be a professional player. But the whole thing comes down to timing and getting breaks."
Andrew's former BHS and Baker teammate also believes he can play professional baseball. Wright said Andrew became a great leadoff hitter for the Wildcats. He also said his speed around the bases and in the outfield are strong attributes, along with his arm strength.
"Of course, that would be great if Andy makes it to the big league," Wright said. "Even playing in the minor leagues or independent ball would be something great, because most ball players don't have that opportunity.
"The sky's the limit for him, not only because of his baseball talent, but his desire to be the best," he said. "I wish him the best of luck and I know all of my former and current coaches and teammates wish him the best and we'll all be keeping up with how his baseball career is going."