District enrollment set for Tuesday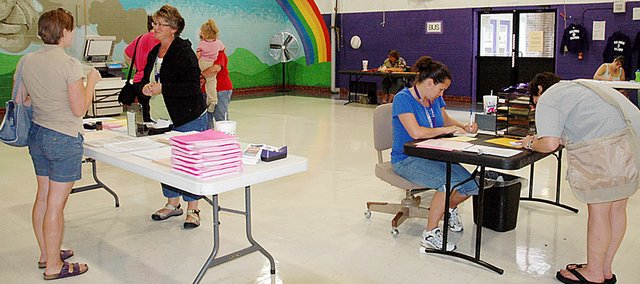 It's not officially August, but school is just around the corner.
First sign of the upcoming year is always enrollment day. This year, that day is Tuesday for the Baldwin School District.
Students and families will be able to enroll from 9 a.m. to 1 p.m. and then again from 3 p.m. to 7 p.m. at all six of the schools.
"We're looking forward to enrollment and getting things rolling around here," Baldwin High School Principal Shaun Moseman said.
Baldwin High School parents and students will be able to receive information and pay for many fees on Tuesday. Those include textbook fees, user fees for athletics or activities, classroom fees and even add meal money to their accounts.
Like all of the principals, Moseman wants the enrollment process to be smooth Tuesday. He hopes it won't take much time for families to stop by the school and take care of the necessary items.
"We're all ready for the parents and students to enroll for the school year," he said. "We're trying to make it as fast as possible each year to help everyone get through quickly."
For the past two years, Baldwin Junior High School has been making the district-wide enrollment day less stressful for its administrators and parents. BJHS added a pre-enrollment period during the summer, which allowed parents to enroll their students when it was convenient for them during the summer.
However, BJHS administrators stopped the pre-enrollment this summer, because budget cuts limited summer hours for its secretaries. BJHS Principal Connie Wright hopes it will just be a one-year layoff.
"I'm really sad about losing that," Wright said. "I'm hoping we can bring it back next year. It was a much more personal setting where we could take the time to chat with parents."
She said that in the past the school would enroll nearly half of its students before the district-wide enrollment day. Wright even said parents can talk to administrators if they wish Tuesday.
"We can get them through as fast as they'd like," Wright said. "If they want to stay and chat, we can do that, too. We can accommodate everybody."
The decision was made Thursday morning to have all of the district staff personnel to help out with enrollment Tuesday. The district office will be closed Tuesday as a result and will resume regular hours, 7:30 a.m. to 4 p.m., on Wednesday.