Demolition derby dominates Burkhart's fair fun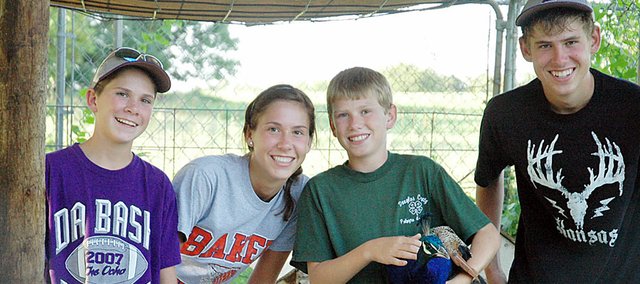 All four Burkhart children still involved with 4-H call a different part of the Douglas County Fair their favorite to participate in each year.
However, the daughter and three sons of Robert and Stacy Burkhart can agree on one event that tops the rest — the demolition derby.
"That's the best part about the fair," Garrett Burkhart said. "I love it."
Each year, the demolition derby takes center stage on the Friday night before the annual fair finishes. Arguably, it's the fair's largest attraction each summer. Hundreds of spectators come out to watch drivers smash cars.
"I love the derby," Hayden Burkhart said. "It's so fun when you're sitting down low and the mud splashes up on you. It's so much fun."
It's not just the youngest Burkhart siblings that enjoy the annual demolition derby. Even the oldest of the four, Ramie, 16, get thrills out of seeing the cars crunched together. Only difference, she uses the time to get away from the family since they've been together for nearly a week at that point.
"Yeah, it's a lot of fun," Ramie said. "I get really into it. I go see it with my friends. It's a time to get away from parents and family."
During the rest of the week, the Burkhart family spends much of its time at the Lawrence fairgrounds together. They might be washing their hogs, competing in various events or hanging out in their family camper.
The Douglas County Fair, which begins Friday and ends Aug. 8, has become an annual tradition for the Burkhart family, who live south of Baldwin City. It began with Robert and Stacy, then it passed on to their oldest daughter Cassidy and now the rest of the children have entered into the realm of 4-H.
"Our aunts and uncles, along with our parents, did 4-H when they were growing up," Ramie said. "We got a horse from them and that's kind of how we got started."
Keeping busy at the fair
Once Monday rolls around, the Burkharts will be having their hands full with contests and other duties that come with caring for farm animals. It's what they've come to expect every summer.
"It gets very hectic, but it's fun," Ramie said.
Each of the four children participates in different events during the week. The contests usually include clothing buymanship, 4-H foods, 4-H photography, 4-H visual arts and crafts and the swine show.
Of course, each has his or her own favorite event each year. For Garrett, it's got to be hogs.
"My favorite thing is showing the pigs," he said. "I like just messing around with the pigs and washing them. It's a lot of fun."
However, his younger brother prefers the events inside where his work can be displayed for everyone to see.
"I really like the arts and crafts and clothing," Hayden said. "If you do well in arts and crafts, your art gets displayed in Building 21. It's the same for your clothing, but it gets hung up in the building."
Hayden and Ramie share similar interests when it comes to fair entries. However, she is more about just the clothing side of the indoor activities.
"The clothing buymanship is probably my favorite activity," Ramie said. "I like buying the outfits."
While the other three Burkharts do enjoy participating in some contest, Hunter, soon to be a sophomore at Baldwin High School, uses the week to be with his friends. He did have to admit that he does enjoy the swine show a little bit, too.
"I just like being up there," he said. "I like hanging out with my friends up there at the carnival. It's the best, because we can just hang out and have fun. Showing the pigs is fun, too."
Hunter and his siblings will join others in the swine show on Wednesday night. They all admitted that preparation for the show can be difficult. Problems can include finding time to wash the hogs at a crowded building, keeping them clean and also avoiding smashed toes.
"It's a lot of work," Garrett said. "At the end of the fair, when you sell the pigs, that's probably the easiest part. The good news this year is that day is my birthday."
Four days after the swine show, the annual livestock auction separates the animals from their owners. Ramie said she doesn't really get attached to her hogs, but her brother had a hard time selling his hog his first year.
"My first year, I cried like a baby when I sold my first pig," Hunter said. "After that, I haven't really cared."
This week has been all about preparation for the Burkharts. They've been getting all of their exhibits ready for entry. While they're ready for the annual fair to start, they also know it means school is right around the corner.
"It also kind of sucks, because you know once the fair is over, that it's time to get ready for school to start once again," Ramie said.