BESPC

safe-room grant a reality; word still out on auditorium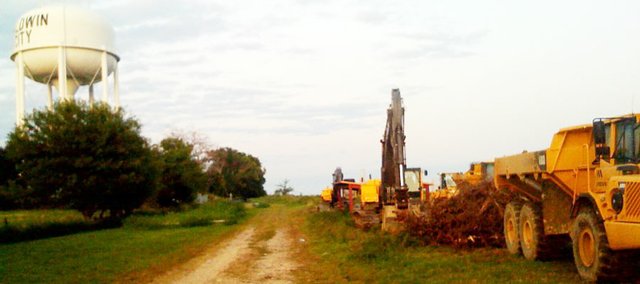 There was good news Tuesday on the first of two safe rooms to be built in Baldwin City with grant money, while the waiting continues for word on the second.
Douglas County Emergency Management announced that the Baldwin School District has been awarded a grant for 75 percent of $603,992 it will cost to build the 680-person safe room at the new Baldwin Elementary School Primary Center.
"We're very pleased and we think it will be a great deal for the community," said Supt. Paul Dorathy. "It'll be good for the students and staff there. If a tornado ever happens, and we hope it doesn't, we will have a building that withstands 250 mph winds. That takes it to an F-5 tornado, which is the worst you can have."
The Federal Emergency Management Agency grant is for $452,994. The school district matched that with $150,998, its 25 percent of the project. Crews started the dirt work on the new BESPC last week and it's expected to open in 2010. Cost of the new school to house early childhood through second grade is $14.6 million, which was part of the $22.9 million bond issue passed by voters in November.
Dorathy said he hopes to hear something soon on the other safe-room grant that was applied for through the same channels. It's for the new Performing Arts Center that will be located between Baldwin High School and Baldwin Junior High School. That whole structure would be built to FEMA specifications for withstanding tornadoes. However, it would house 1,500 to 1,800 people, with a price tag well over $1 million for the beefed-up outer structure.
"Because it is a bigger grant, we were told it wouldn't be a state grant decision," he said. "It is at a higher level. I'm not sure if it's in Washington or not. I think we're going to know on it in the next two or three weeks."
The Performing Arts Center cost jumped to $4.5 million when the decision was made to build it as a safe room. If that FEMA grant is not approved, the project will be scaled back to normal construction.
BESPC will be the second school in Douglas County to have a safe room. Eudora received a $566,677 FEMA grant in 2008 for its new elementary school.
"This is our second one," said Teri Smith, director of Douglas County Emergency Management, who has helped with all the grant applications. "We are ahead of the game in northeast Kansas. Wichita has quite a few safe rooms. But the Eudora safe room was the first to be built in northeast Kansas. We are being proactive."