Fees, food prices increase district wide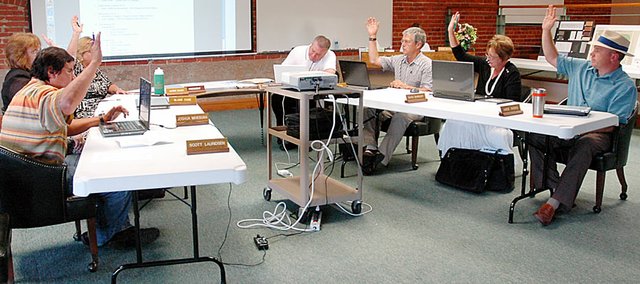 A decreasing 2009-2010 budget forced the Baldwin School Board to raise several fees for the upcoming school year.
Increasing costs will affect the entire district. The cost of meals, textbooks, user fees and class fees will be increased. The school board unanimously approved all of the increases at its July 13 meeting.
"That's been part of the plan all the way along," Supt. Paul Dorathy said. "Trying to meet all of the budget reductions and reallocations for health insurance, some of these things did go up."
The meal costs and textbook fees will affect the entire school district. Breakfast and lunch prices were voted to increase 10 cents each from the 2008-2009 prices.
Textbook fees for the district have also been raised by $5. Because of that, kindergarten fees will now be $40, grades one through five will be $50 and grades six through 12 will be $60.
Another increasing cost is user fees for Baldwin High School and Baldwin Junior High School activities. They have jumped from $30 to $40 for the upcoming school year.
The user fees cover all athletic teams and three other activities. The school board approved charging user fees for BHS debate, forensics and scholars bowl. Only those traveling to tournaments for those activities will be charged the user fees.
The school board also approved a $25 class fee for the BHS journalism course. That is a new fee for the class.
"Those programs were not being charged before," Dorathy said. "We have some cost involved with those activities and there needs to be some help to support those programs."
The textbook, class and user fees will be available for students to pay on the district-wide enrollment day, which is Aug. 4. Students and families will be able to enroll from 9 a.m. to 1 p.m. and then again from 3 p.m. to 7 p.m. at all six of the schools.
In other news from the July 13 school board meeting, the 2009-2010 budget was unanimously approved for publication, pending an approval by the state.
"We take what we have calculated and go up to the Kansas Department of Education and let them review it," Dorathy said. "Once we publish it, that's basically it. The board could choose to lower what they publish in the paper, but it may not raise it."
A budget hearing for the $10.8 million budget is at 8 p.m. Aug. 10 at the district office.