Eric Brown trading javelin runway for baseball diamond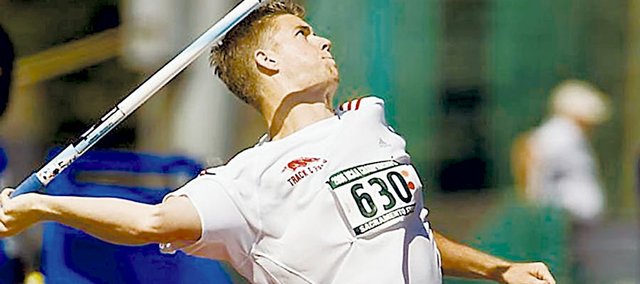 Eric Brown misses those days of being one of the boys of summer.
After an eight-year hiatus, the Baldwin High School graduate is hoping to play at the professional level. But in fact, he never played on a high school or college baseball team.
For the past 10 years, Brown has pursued a track and field career. It led him across the country and even to Europe and Asia. However, now he wants to be back on pitcher's mound hurling fastballs.
"It's big a big transition from javelin to baseball," Brown said. "I've had to change all of my mechanics again. Of course, I have to start throwing accurately now, which is a big difference. It's been a little bit tougher that way."
As a boy, Brown grew up playing baseball in the summer. It's a sport he learned from his father, Dan Brown. Once the Brown family moved to Baldwin City, Eric played one summer with the local recreation team.
Eric begun playing with Lawrence teams during the next summer. Dan couldn't remember why he started playing in Lawrence, but thought it was because of an age difference with his friends or the local recreation league had some problems. Dan also said Eric considered playing high school baseball in Lawrence.
"Baseball is something that I always played and I kind of handed it down to him," Dan said. "He took to it fairly easily and he was coordinated enough. As he grew, he picked up very quickly and seemed like he had a drive to play. He progressed well, but he had bad days like every other kid. He liked being in the middle of it and playing the high-profile positions. He just took to it naturally."
Before this summer, Brown's last competitive baseball game was played in the summer of 2001 as a member of the Lawrence Raiders. Since that summer, the former Bulldog has graduated high school, earned a bachelor's degree from the University of Arkansas and gained a full-time job in northwest Arkansas.
News of his desire to play baseball again surprised Eric's father.
"I was kind of surprised he still had interest in playing," Dan said. "I think, ultimately, he thought he could kind of make some life out of it. Then he took the track avenue that he did. I think he was at a point where he had to make a decision to do something and the javelin wasn't going to work out any longer."
Some might find it surprising Eric never played a single game for Baldwin High or the Arkansas Razorbacks. BHS didn't have a baseball team until Eric's senior year. By then, he had already found a niche with javelin.
"By then, he was so entrenched into track, he didn't want to take a chance of messing up a college scholarship in track," Dan said. "He was ready to make a decision on a school. He decided to put baseball on the shelf for a while and now he's decided he's going to dust it off."
World-class thrower
It was track — well, officially it was throwing the javelin — that made Eric a successful athlete in high school and college. He participated in track and field in junior high, but didn't become serious about it until midway through his career at BHS.
"Well, I did track in junior high, but javelin looked a lot more fun than shot and discus," Eric said. "I thought I would just do it to keep my arm in shape until the summer."
He did more than keep his arm in shape. He went on to win two Class 4A state championships and earn an NCAA Div. 1 scholarship to a prestigious track and field school.
During that time, he was faced with a tough decision. Baldwin High added baseball to its list of athletic programs his senior year in 2002. Eric had played on a summer team for more than a decade, but he was already receiving scholarship offers for javelin.
"Now that I think about it, I really didn't think much about it at the time," Eric said. "I was worried about wanting to throw further in javelin my senior year and I was pretty set on going to school for that.
"I had never been recruited for baseball, but I've heard they recruit a lot out of high school," he said. "I don't know if I just didn't get seen or what. It really wasn't a tough decision to throw javelin in college over playing baseball, because I never really heard anything for baseball."
Eric went on to throw for the Razorbacks for four years. He finished runner-up at the NCAA Outdoor Track and Field Championships in 2006, which was the third top-five NCAA finish of his career, after garnering third place as a sophomore and fourth place as a junior. He also won the Southeastern Conference Championship earlier that spring.
In June 2007, Eric competed at the Track and Field World Championships in Osaka, Japan, as part of the United States team. A year later, he finished 11th at the U.S. Olympic Trials in Oregon. That was the last time Eric competed in the javelin.
"I got done throwing javelin at the Olympic Trials in July and after that, I wanted to get away from it," he said. "I wasn't happy with how I did and I kind of wanted to take a break."
Making a comeback
Last fall, Eric began thinking about possibly playing baseball again, but it wasn't until early 2009 that it became a reality. He got in touch with a pitching coach in the area, but the first contact with him was a bit confusing for the coach.
"When he called this guy and asked him about the training facility, the guy responded and asked Eric 'how old is your son?'" Dan said. "Eric told him, 'No, it's for me.' He thought that was quite comical."
Since then, Eric has been throwing once a week with the local coach. It's usually Eric and area high school and college players, which makes him feel a bit old.
"I've been trying down here at a place that's almost like Sport 2 Sport was in Lawrence," Eric said. "They have batting cages and young kids will come in there for lessons and stuff like that. So it's basically me and a bunch of 12-year-old kids.
"I literally feel like the movie, 'The Rookie,' most of the time," he said. "Most of the kids that come are high school kids, because teams draft kids out of high school now. The coach seems to know what he's talking about. They definitely know what they are looking for. He's got me to where I am now since I transitioned from javelin to baseball."
Difficulties haven't avoided Eric in his attempt to be picked up by a professional team. His first problem was finding time to pitch. He works all week and is only able to throw one day a week. However, he did admit he could throw more often, but he needs a friend to catch for him.
Another large problem has been relearning the motion of a pitcher's arm. That's taken the most time so far to learn.
"It's actually been really tough," Eric said. "You could tell the first couple of days I pitched where I threw like a javelin thrower. Basically, everything I worked on for the last eight years for javelin is the opposite of what you want to do in baseball. Your arm needs to be shorter and in a tighter circle. You need to drive off your back leg and finish down toward home plate.
"In javelin, you want to do the opposite," he said. "You want your arm long, your chest up and you don't want to throw off your back leg, because you want to use the momentum you built up in your approach. It's just kind of fundamental things to generate speed in baseball, which is important, of course."
To help overcome this challenge, Eric joined a men's recreation league team this summer. He's been playing once a week on the team. He said some players in the league played baseball in college, but the games aren't too serious.
"I've had some pretty decent luck with that men's team I play on," he said. "If I'm not throwing as fast I need to play at that next level, I'm at least throwing well and lots of different pitches, which is good. I am definitely trying to mix speeds a lot. I'm actually having a lot of luck with accuracy, which has been a big surprise to me after javelin."
Eric has also displayed his pitching talent for a few major league scouts at area tryouts. He's traveled to Omaha for one tryout and back to Lawrence for another one in early July.
He also participated in a tryout in Wichita. He was throwing with around 30 local high school and college athletes. Eric said his fastball maxed out at 88 mph, which he knows isn't fast enough for the scouts to notice him.
"I felt like I threw as well as I could," Eric said. "They need to see guys who throw over 90, so I haven't heard anything, of course. I think I have the power and the athletic ability of most pitchers, but it's all of those little things that kind of make the difference. I kind of need to throw more often to really get my arm in condition to add a couple of miles per hour on my fastball, which would make the difference and maybe get me looked at.
"I'm going to keep trying the tryouts, whenever I hear about them," he said. "They are few and far between. I'll keep playing and working on my arm strength. Hopefully, I'll get a chance at the next level sometime."
If his baseball comeback doesn't happen, Eric isn't too sure he wants to go back to throwing javelin, either.
"It's tough to do when you're out of school," he said. "It takes so long to train every day to be at the level you need to be. It's pretty tough to make money, too, because basically you have to be in the top 10 in the world. If baseball doesn't work at all and I'm doing nothing, I may throw a little bit just for fun. I probably won't pick it up as serious as I used to."