Donations good; food pantry need is greater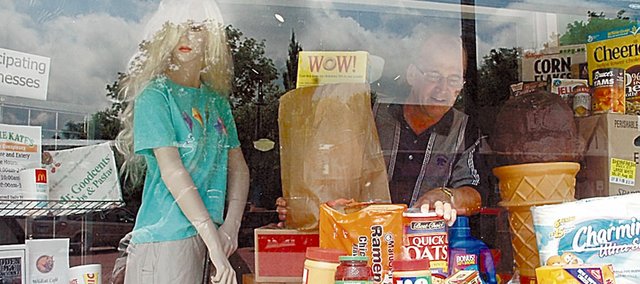 Although response has been great, the need for contributions to the Community Food Pantry don't stop.
Kite Video started a mid-summer food drive for the food pantry last week and has been overwhelmed by the response from the community.
"It's unbelievable," said Joanne Kite. "We had 26 businesses participate and close to 50 families bring in food or cash. I would say we have probably 70 bags of food. One family came in and left six bags of food and cash. It's a neat thing."
Those businesses have donated coupons to the cause, which people can pick up when they deliver food. Kite said that some people are telling them to give the coupons to others, but they still have them.
And the need for donations is still there.
"It's huge," said Kite. "So many people have said they are so thankful that they don't have to use the food pantry and they are bringing food in."
She said there were a couple of reasons the idea behind the food drive was hatched.
"We actually had a customer who works in the food pantry come in and said they were so low on food," said Kite, adding that she'd also seen Ruth Dickinson, who runs the food pantry, one day. "She said they had 14 families in for food last weekend and that they needed food desperately.
"The timing for the food pantry is great," she said. "All these kids are out of school and aren't getting free and reduced-price meals. There are senior citizens coming in. There is such a need right now. Oh, my goodness."
The food drive goes through Monday and people can drop off their donations of non-perishable food to the video store at 719 Eighth St. It's been a big effort by many people, she said.
"Everyone has been great to help with whatever they can," said Kite. "Every business I talked to was happy to be involved. We are so blessed in this community."