BCAC

Art Walk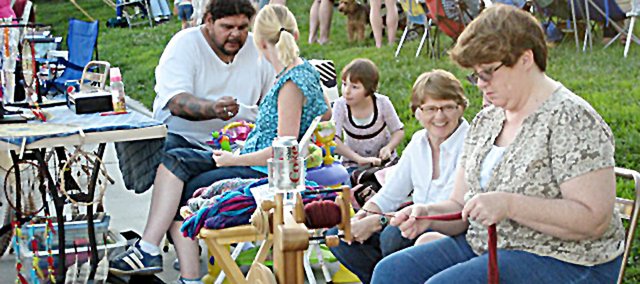 Although the Baldwin Community Arts Council and its Art Walks have been around for years, not everyone knows about them. Various members of the Arts Council board of directors offered these answers.
Q. The July Art Walk was Friday in downtown Baldwin City. Why is it one of the favorites?
A. It's hard to beat free ice cream and a performance by the Community Band. On the heels of the Fourth of July, it just feels right. Add to that the get-together that it provides for the community to see numerous local artists and it works. Throw in nice weather like Friday's and the people come. There were 250 bowls of ice cream scooped and eaten.
Q. What is the history of Art Walk?
A. It was started in 1996 by two local art galleries, Aardvark and Art Affair. Neither remains in existence, but Art Walk keeps going and going and …
Q. What other Art Walks are there?
A. The June Art Walk kicks off the season and is always well attended. July speaks for itself. August Art Walk has been on and off, but it's scheduled this year for Aug. 21. Another of the popular Arts Walks is in September and is called Cuppa Java. It features hand-thrown pottery mugs and homemade treats such as pie, cookies and brownies. Art Walks are most generally the third Friday of the month.
Q. What other BCAC events are there?
A. The Arts Council is possibly best known for the Chocolate Auction, an annual event the Sunday before Valentine's Day in February. Artists and cooks contribute a wealth of items — and lots of Chocolate — for a high-spirited auction. It has raised thousands of dollars over the years that are used by the BCAC to fund college scholarships for Baldwin High School graduates. The Arts Council also added a Valentine's Day Dance the Saturday night prior to the Chocolate Auction this year and it was well attended, too. The council also sponsors various holiday arts sales and other events and classes throughout the year.
Q. Is the Arts Council the same as the Lumberyard Arts Center Project board?
A. In a word — no. They are two separate entities, although they have much the same goal — advancing the arts in the Baldwin City community. The Arts Council has supported the Lumberyard project from day one, most notably with funding, but the two groups are separate.