City resolution regarding Elm St. passes, but questioned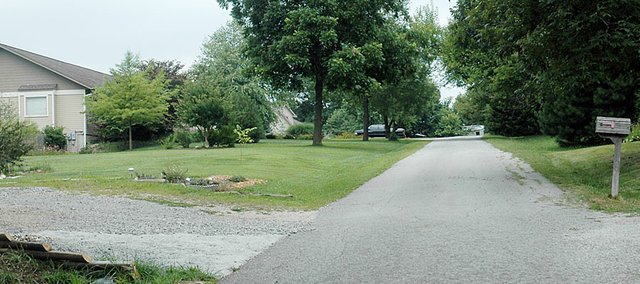 A resolution was passed by the Baldwin City Council at Monday's meeting regarding streets on the Baldwin School District's property in west Baldwin. But it didn't happen without a long discussion.
The resolution was passed to affirm that the council supports the planning commission's recommendation that Elm Street should be extended from 11th Street to Lawrence Street as part of the long-range plan. Originally, the planning commission wanted the extension done now, but later approved the site plan for the new Baldwin Elementary School Primary Center that will be built there without the full extension to 11th. Instead, the school district agreed to extend Elm Street to Bullpup Drive, which it had originally not planned to do.
Council Member Ted Brecheisen, Jr., took exception to the resolution.
"I don't see any reason that we need to make this resolution," said Brecheisen. "We all know Elm Street is a mess. The planning commission agreement was to let it go and give them the building permit. What is this resolution doing?"
City Administrator Jeff Dingman, who wrote the resolution, explained that it puts in writing that the city's position is that Elm should be extended to 11th, although there is not timeline on that happening. He said the resolution gives notice that the governing body supports the planning commission.
Mayor Ken Wagner went a step further.
"It makes it clear to people who make decisions on that property that we stand behind the planning commission's recommendation," said Wagner. "I think we're trying to take the ambiguity out of it. I think it makes it crystal clear that we support extending Elm Street to 11th Street. I don't see any down side to the governing body approving it."
Brecheisen agreed, but also went a step further.
"I don't see a down side to it, but I don't see any upside," said Brecheisen. "In five years' time, this will be lost. I think it has no purpose."
After some further discussion, including the resolution's reference to the need for further study at the intersection of Lawrence Street and U.S. Highway 56, the resolution passed 3-1. Brecheisen voted against it. Council Member Tom Farmer arrived at the meeting right after the vote was made.
In the only other action, the council voted to purchase the house at 1017 High Street near the Women's Bridge for $19,000 and 50 percent of closing costs. It will be razed to add additional park space to the area. The decision was made after a 30-minute executive session.