Weaver keeps basketball camp light-hearted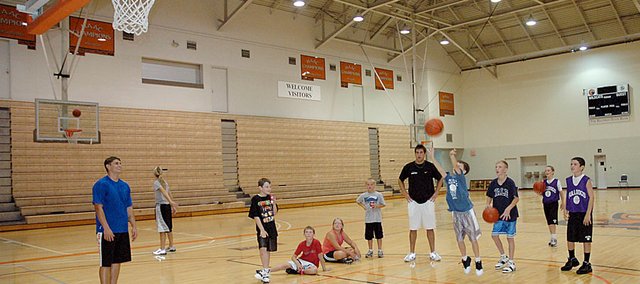 In typical Rick Weaver fashion, laughs and fun times are aplenty at his annual summer basketball camp this week.
The long-time Baker University men's' basketball coach hosts a four-day camp each July. The camp's first three days are over and he's enjoyed his 2009 camp.
"I do enjoy it each summer," Weaver said. "It kind of gets me re-energized a bit each year. A lot of these little guys don't ever wear down, so it keeps me going. It's fun and I know a lot of the kids already, because they are local Baldwin kids. They are a pretty good bunch."
Each day of camp is different, but it's filled with more than two hours of basketball. That time is spent learning fundamentals and playing games.
It's also spent rewarding the campers with treats and some monetary prizes.
On Tuesday, Austin Quick, 13, won a small prize for winning the free throw contest of the day. That's just one way Weaver keeps the camp fun.
"We do a lot of fundamentals," Weaver said. "We do the basics and try to switch drills about every 10 to 15 minutes, because sometimes their attention span isn't too long. We do a lot of basics. We do lots of stations where they learn the basics of the game."
"We also try to do some team kind of things," Weaver said. "We do some shooting contests. We like to add some competition in there with a team shooting contest and an individual free throw contest."
This year's camp has around 35-40 children attending, which is about where Weaver wants his camp to be each summer.
"We are about 50-50 split between males and females," Weaver said. "We've also got about six camp staffers, so we've got about five to six campers per staffer. We've got about the right number because they can all get individual attention. Seems like if we have any more than that, we can't keep them moving. I don't like them standing around. We try to go about two and a half hours in the morning and keep them moving.
The camp will finish at noon today, at least for a year.