New Arrowhead Hardware was a long time in the making
2009 Progress Edition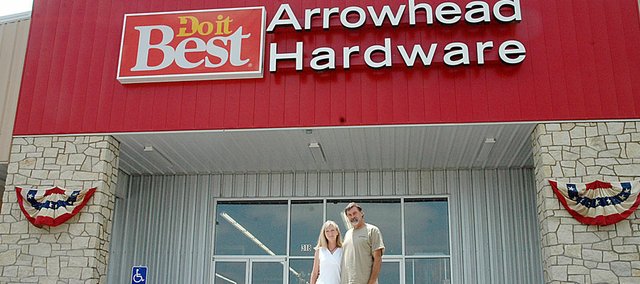 Gary and Robbie Lamoreux tossed around the idea of expanding their hardware store for nearly a decade.
Once the thought of expansion was deemed unfeasible, it became time to search for a new location. One became available about 200 yards north of their old store.
Many months later … a brand new — and much larger — Arrowhead Hardware was opened.
"We've been working on that idea for many years," Robbie said. "We could never really find a way to make it work at the old location. We spent at least two years trying to figure out a way to add on to the old building. Then this came up for sale and it was perfect."
On April 17, the Lamoreuxs opened their new store. It's located at 318 Crimson Avenue, on the east end of the FireTree Estates subdivision.
"It's a great location," Gary said. "We've tried to fit in with FireTree and the nice housing around here. This store was about three years in the making by the time we first started thinking about it and getting all of the preliminary stuff done."
They hired Broers Construction for their project and they've been happy to work with Lonnie Broers and his company.
"Lonnie Broers has done a really good job for us on our building," Robbie said. "He's a local guy and he's honest. He's just done a great job."
There was one major problem when the new store opened — the old location was also open. The merchandise was divided between the two stores and so were the employees.
Some employees were traveling back and forth between locations to help customers. That was until they bought walkie talkies. That vastly improved communication between stores until the old building closed.
"It was very hard," Gary said. "Half of the merchandise was here and half of it was there. Somebody would come in for something and it would be in the wrong store. We still have stuff down there."
After weeks of operating both locations, the Lamoreuxs closed the old store. The current location nearly doubles the old building in size. The former building was 6,300 sq. feet, while the new store is 12,500 sq. feet with much more storage space inside and outside.
Another benefit of the new building is that it was designed to make unloading the merchandise truck much easier. At the old location, the truck would block the majority of the parking lot. However, the truck is now unloaded in the back of the new store.
"We are loving the fact that we can unload our truck in the back of the store and not have it block our parking lot," Robbie said. "That used to be horrible for business. That was one reason we couldn't expand our old building."
The added space has helped the Lamoreuxs carry more products than they could in the past. They've also attracted business owners from other towns.
"I'm happy we can meet the expectations of our customers," Gary said. "I wanted to build a store that would not only keep customers here in this town. I also wanted to build a store that would draw customers to this town from like Wellsville, Edgerton or Overbrook.
"This is a pretty large hardware store for this size of town," he said. "People from other towns that are thinking about doing hardware stores have come to look at this store. I hope people like it."
So far, they believe the people of Baldwin City have liked the new store and location.
"We love Baldwin," Robbie said. "It's a really nice town. The people in this town are great people. It would be really nice to have our town be more self-sufficient so you don't have to go out of town to get everything. It gets old having to drive 20 minutes to get things."
"The response from the community has been so nice," she said. "We haven't had one negative comment. Everybody has been really good to us and it's been fun having so much more room. But we're still ironing out a few rough spots so we can't say we completely enjoy it yet."
In fact, the Lamoreuxs might be the biggest critics of the new building. They like it, but the entire project might have been more than they imagined.
"This was very hard," Robbie said. "I don't know if I'd do it again. It's been a lot of work. It's been very stressful. It's our whole life, because let's face it: this is everything we've worked for. We are going to have a grand opening sometime. It's just taken us a lot longer to do the little details than what we had hoped."