Lumberyard Arts Center gets a leg up on progress
2009 Progress Edition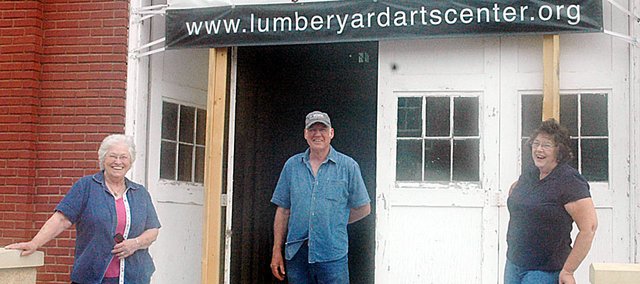 Progress at the Lumberyard Arts Center has come a long way, but there's still a long ways to go.
Once the building permit to refurbish the building was received in the spring, work has progressed on the 1914 structure.
"Work continues daily as we progress toward our goal of completion for Phase I of the community arts center," said Diane Niehoff, who has spearheaded the effort since day one. "We now have a concrete floor, and all of the walls for the classrooms, gallery, office and the catering kitchen have been framed in and examined by a structural engineer.
"Every effort is being made to keep the look of the lumberyard, originally built in 1914, while complying with modern day codes," said Niehoff. "Finding a way to do both things is a continuing challenge, but one that will be rewarding when the project is complete."
And that's what everyone wants to know.
"The big question asked nearly every day is, when do you expect to be finished?" she said. "Unfortunately, that is a question that we as the Lumberyard Arts Center board cannot answer. The answer is dependent on many others. Will the subcontractors be able to keep our schedule? Will all those volunteers who originally expressed their willingness to help come forward now that we need them?
"Will the community support the fundraising efforts of the volunteer board?" said Niehoff. "Please be reminded that this project is being implemented for the community entirely with funds donated and generated by a group of fellow citizens who see a need and are determined to fill it."
To date, there has been $270,000 raised for the project. That has been used on numerous expenditures and additional funds are needed, she said.
"As we began reconstruction work, we estimated we had sufficient funds to complete Phase I of the project, enabling us to have clean, safe and efficient classrooms available for planned classes for both children and adults, an attractive, spacious office area for our Chamber of Commerce, and a gallery for local artists to exhibit their works," said Niehoff. "A catering kitchen and spacious commons area will be available for rental which will help to generate operating funds. With the current funds available, we will be able to accomplish this in a 'no frills' manner.
"We would like to finish it in the manner we had originally planned," she said. "With the increased costs of materials and modifications to the plans, we estimate that we need to raise another $150,000 to complete Phase I in that manner."
There are a number of ways people can help out with the effort to establish a home for the arts in downtown Baldwin City.
"The community can help to make this possible by a show of support in several ways," said Niehoff. "Volunteers are needed for many jobs: (1) clean-up, which is an on going everyday chore during reconstruction work, (2) digging as we work to enhance the new west entry through the Tom Swan Park, (3) painting, both inside and outside. To volunteer for any of the jobs or offer expertise in any area, call 766-0218 or stop by the Lumberyard on Saturday mornings between 9 a.m. and 11 a.m. and sign up for the job you are best suited for.
"One of the best ways to show support for this community project is to support one or more of the fundraising efforts," she said. "'Buy a Brick' and become a permanent part of the history of downtown Baldwin City. For a donation of $100 you can purchase a brick that will be laid in the center of the commons area — the former alleyway of the lumberyard. The bricks may be engraved with up to 14 characters each on three lines. Gift certificates are available for that person who has everything — buy a brick in their honor. There are a limited number of these bricks available."
There have been numerous fundraising events at the lumberyard over the years and there will be more, including a new one that's coming up this month.
"With the generous support of Dave Hill, we will be hosting a Luau on July 25 at beautiful Sunset Lake," said Niehoff. "This will be a fun-filled evening with a lavish buffet catered by Three Sisters Inn. Reservations are required and may be made with a $100 donation to the project. For more information or to make reservations, you may call 766-0218.
"We will be holding the Sixth Annual Blues and Barbecue again this year on Oct. 3, even though it may be necessary to have it outdoors if everything is not complete inside," she said. "And, of course, an outright tax-deductible contribution would be most welcome. All donations may be sent to PO Box 523, Baldwin City, KS 66006."