Good fishing returns to Douglas County State Lake
2009 Progress Edition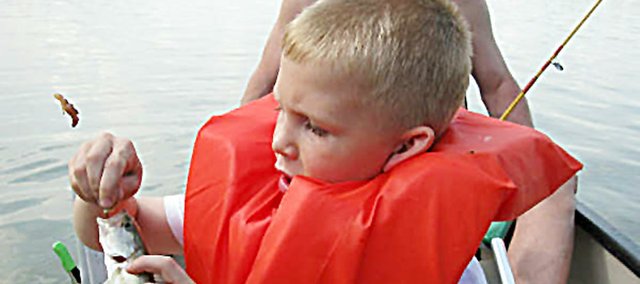 Fishermen are giving the thumbs up to the work done at Douglas County State Fishing Lake over the last several years. The lake was reopened to fishing in January after years of being closed for renovation.
"This has been my best year of fishing ever," said Marvette Ralston, Baldwin City. "Douglas County State Fishing Lake is so close; it's the perfect spot to relax in the canoe and fish. All last year I kept taking my grandson out to see the lake as we waited for the renovations to be finished. I kept telling him we would fish there soon. Needless to say, he was very impatient and couldn't understand all the waiting.
"The first day we took him out in the canoe he loved it. He begs to go every time he comes to visit," said Ralston. "We have caught bluegill, sunfish, perch, largemouth bass and catfish so far using worms or shad. It's been mostly catch and release this year, but we did bring home our limit of catfish one Friday."
Richard Sanders, fisheries biologist for the Kansas Department of Wildlife and Parks, was in charge of the restocking efforts during the last several years as the lake filled up with water. He's hearing good reports, too.
"Anglers have caught many channel catfish, largemouth bass, bluegill and redear sunfish since the lake was reopened," said Sanders. "Almost all largemouth bass fishing has been catch and release as most bass are small, 7-10 inches in length, although a few of the original stock range up to 3 pounds.
"The original bluegill and redear stocked have grown large, around 8 inches long, but their offspring are only 5-6 inches in length currently, so much of the sunfish caught are released," said Sanders. "Channel catfish range in size from about 8-22 inches in length. During the 2008 fall netting survey, more than 70 percent of the channel catfish exceeded the 15-inch minimum length limit, so they were legal to harvest."
Sanders isn't done with the stocking program yet, either.
"Black crappie adults were stocked during fall 2008 and they should have spawned this spring, establishing a population," he said. "If all goes well, there should be a fishable population of crappie in a couple of years.
"Saugeye may be stocked during spring of 2010. It depends on how the crappie progress," said Sanders. "Channel catfish will be stocked on an annual basis to maintain that fishery. The other species, except saugeye, should be able to maintain fishable populations without additional stockings."
Work on the lake started after it was drained in November of 2005 — all 1.007-billion plus gallons. Repairs were then made to the dam and other improvements were made to update the lake, which was built in 1961. Cost of the project was $500,000.
Once repairs were made and the lake started to refill, Sanders began his restocking efforts.