Bulldogs benefit from pre-camp workouts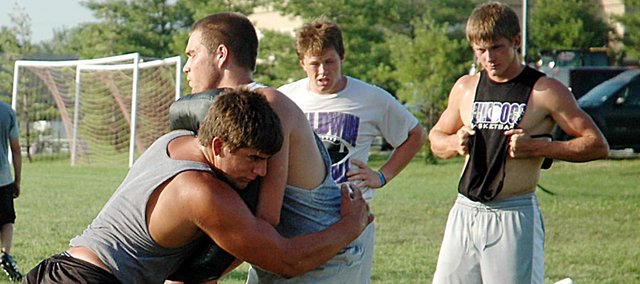 Extra workouts and conditioning are showing their benefits this week at the Baldwin High School football camp.
Football coaches around the state have been enjoying the experience of coaching their teams during the summer for the first time ever. It's been the talk of the summer.
So far, BHS coach Mike Berg believes his team is reaping the benefits of added time with the coaching staff.
"I feel like we are ahead and I say that every year," Berg said. "I believe it every year and each year we get further ahead, especially with the rule change. We were able to coach our kids all summer. We graduated a lot of seniors, but the underclassmen have been coached all summer, so we're right where we need to be."
The Bulldogs have been practicing three times a week, lifting weights and participating in Bulldog Days throughout the summer. Once camp started Monday, the benefits of those extra workouts began to show.
"We've been busy and working hard with Dog Days, weights and practice," junior Jesse McDaniels said. "We won't be able to practice after this week, but we'll stay in shape before the season. It's helped a lot. We just get right into everything and we already know our plays. It's been very helpful this summer."
The extra summer workouts have also helped remove most of the conditioning from the Bulldogs' team camp.
"We are doing less conditioning and more techniques and fundamentals," Berg said. "We are teaching them what their assignments are going to be on offense and defense.
"I am so impressed with our kids' work ethic," he said. "They came out here and they've been ready to learn. We are not only conditioning their minds, but we're conditioning their bodies. They are staying focused and they're picking up on things quickly, so I'm really happy."
Less conditioning is always favored by the players.
"It's really nice not doing conditioning at camp," McDaniels said. "I love not having conditioning."
Since most of the extra running has been taken out of the camp, Berg and his coaches have been using that time to work on their offensive and defensive schemes. On Monday, the Bulldogs worked on their offense, while Tuesday was the defensive day.
During those two days, Berg was trying to instill an attitude that all players need to learn two aspects of the game.
"We are really focusing on blocking and tackling this week," he said. "Everybody needs to know how to block and tackle, even our quarterbacks."
Today will be the final day where the Bulldogs learn new schemes. On Friday, they will enjoy the annual ending to every summer's team camp.
It's simply known as "hog ball." It's a type of football, similar to a backyard-style game, but it's competitive among classes. However, a small senior class might force some minor changes this year.
"Of course, we will be having a Friday night hog ball championship," Berg said. "We might have to break up the classes a little bit, but we are looking forward to it."
As camp winds down this week, Berg hopes his players continue to show the style of work ethic they've had this entire summer. He knows it's something that has been passed down from previous senior classes.
"It's carried over each year," Berg said. "Our seniors, for the last 10 years, have carried over their work ethic. Our kids know what they have to do. It's the same work ethic we've had in the past and I attribute the success we've had to that. The kids know what it takes to be successful. We told them at the beginning of the week that we have a reputation to uphold and the reputation is we want to be competitive and make the playoffs. So they are going to work hard to do that."
After Friday, the Bulldogs will stay in shape until practice begins in the middle of August. However, they are ready for the season to begin this week.
"I'm so ready for the season to start," McDaniels said. "We are looking good as a team. I wish it started today."