BHS

alumna Brown enjoys summer volleyball camps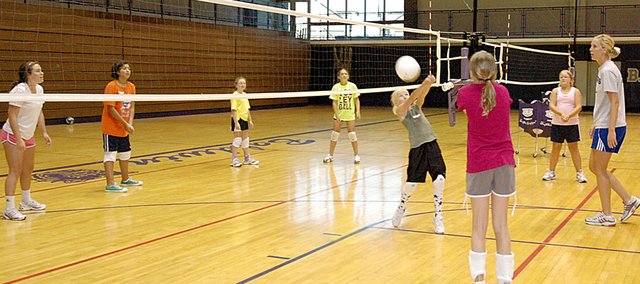 Emily Brown is back in Baldwin City and once again teaching the local youth the game of volleyball.
Baldwin High School's most famed alumna in the sport of volleyball is conducting her summer camps this week. She has expanded her lineup to three camps this year.
The 2004 BHS graduate, who played volleyball at the University of Kansas, is hosting high school, junior high and elementary-aged camps. They are keeping the former Bulldog busy, but she is loving all six hours of camp a day.
"Camp is wonderful," Brown said. "We have a lot of girls at our three camps, which is cool. It seems like every year, we add a few more. The more girls that play volleyball, the better."
In the morning, Brown has around 16 high schoolers in the gym. This is her third year to coach high school students at her summer camp. One of the Bulldogs at the camp is Brown's younger sister, Taylor, who will be a senior at BHS this fall. The thought of that scares Emily, but she is also treasuring the time spent with her sibling and her friends.
"It's been so fun," Brown said. "Ever since she started playing volleyball, I've been playing, too. I've always been able to watch her and see her improve. She's improved so much and she'll be a senior, which is crazy. I don't even want to think about it. It's weird that whole group of girls will be seniors. It's always been Taylor's friends, but now they will be the senior volleyball girls. It's cool to see."
Although Emily enjoys the older girls at the early camp, she is happy to teach younger players the game, too. After lunch, she holds her junior high session, which has attracted 12 players.
The final camp is being held for girls in grades four through six. Emily has only seven girls at the last session, but she is thrilled they are out there learning the sport.
"It's fun to teach a wider age group of girls this year," Brown said. "I love working with the high school girls. I can do more with them and teach them more advanced parts of the game. But I think it's fun to work with these younger girls.
"Some of them have never seen a volleyball or a match before," she said. "We get to start with the basics, like how many people are on the court and what's a serve. It's definitely a much slower-paced camp, but they are so excited to be here. That makes it so easy. In junior high, they've made that transition to where they know a little bit about volleyball, but you still get to fine-tune their skills. So I kind of get a little bit of everything, which is awesome."
While the youngest girls are just learning the basic fundamentals of volleyball, the junior high and high school girls are ready to learn more advanced techniques.
"We go through each skill with each camp," Brown said. "With the youngest girls, it takes about a day to go through each skill. With the junior high and high school girls, they have been taught these skills, so we're just fine-tuning things. We are able to get in some more advanced drills and game situations with the older girls. The more of that we can do, the easier their games will be during the season."
In fact, the high school campers have been scrimmaging more than in previous years. They've also been playing more game-like situations. Brown said she's adjusted that camp to more games and fewer fundamentals.
"They are definitely wanting to play more this year," she said. "Last year, it was more skill stuff and we played a bit every day. This year, they came back and said they wished they had played more at camp."
However, she has yet to join the scrimmages. That may change when camp ends today. The former Bulldog and Jayhawk, who will be playing professionally in France beginning in August, might join the campers.
"They have enough people where I don't have to play," Brown said. "I wish I could. I might have to jump in with them and throw on some knee pads."