Considering career change? Take time for research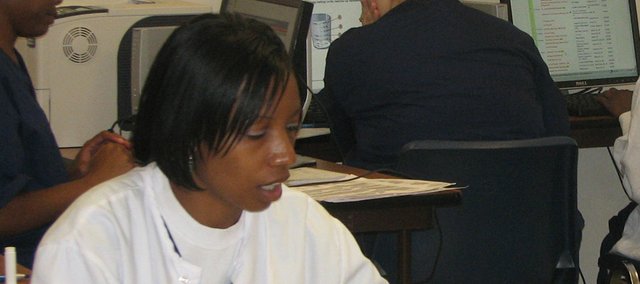 Starting a new career requires time and thorough research, advises department heads at several area schools.
David Gaston, Career Center director at Kansas University, said adults who were considering a career change needed to take the time to think it through, being careful not to rush into anything.
"You need to have a firm grasp on what you're doing and why you're doing it," Gaston said. "It's like Franklin Covey said, 'Begin with the end in mind.' Are you doing this because you're out of a job, are you doing it to make more money, or are you doing it because you're bored? What do you want out of it?"
After one is confident a change is completely in order, it's time to choose a profession.
Jennifer Patla, director of admissions at Heritage College in Kansas City, Mo., suggested those who were in search of a new career should find out what careers were in demand.
"The Department of Labor has a Web site that lists which fields are growing," Patla said. "The ideal situation is to start in a career field that is growing, where people are needed, so you will be able to easily find a job."
If none of the in-demand fields catch the eye, Patla says someone can start with a far more simple approach.
"Just ask yourself, 'What do I like to do?'" she said. "What are you interested in, what can you see yourself doing?"
The next step is finding a place to acquire the appropriate education and training. Research and careful consideration are again paramount, Gaston said.
"Think about whether you just need more training, or whether you need to actually go back to school," Gaston said. "Going back to get a full education might not be the best route for everyone, and it might be unnecessary for some. Many professions require training, but not a four-year degree."
The Internet is an incredibly useful tool when determining how much education is required for a profession and when looking for a school, Patla said.
"Sites like College Surf or EduSearch will be able to narrow schools down for you," Patla said. "And something handy about them, is the sites will send your contact information to those schools, so you don't have to bother calling 10 different schools yourself."
Dan Boyd, a 37-year-old massage therapy student at Heritage College, said he used a similar Web site to find his school.
"It was so much easier than I thought it would be," Boyd said. "I knew I wanted to do massage, but I had no idea what schools offered such a thing in my area. The site just came right back with schools close to me. A few schools got back to me, and soon I had appointments to see the campuses."
Both Gaston and Patla agree visiting schools is essential.
"Every campus has its own culture," Gaston said. "A school that's perfect for someone else in your field might not be perfect for you."
Patla advises people not to be afraid to ask tough questions during the visit.
"First and foremost, make sure they're accredited," she said. "Ask if they provide assistance with job placement, and if they have internships in their programs. And don't be scared to ask for statistics. What percent of students are placed successfully in jobs after graduation? What's the graduation rate?"
Patla said spending some time at schools was an extremely exciting experience, but she warned people to not jump the gun.
"Don't stop with one school," she said. "Look at several schools, make comparisons, call and ask more questions if you need to. It's a huge decision, and you shouldn't just choose the first school you go to."
Heritage happened to be the first school Boyd visited, but he said he looked at three or four others.
"I was definitely on a mission," Boyd said. "I was determined to find the school that fit my needs because scheduling had to be right with my kids, times had to be right with my job, I needed to have time to study. After a few weeks of going and calling and talking, I had made my choice, and I knew I'd be happy with it."
Though changing careers and going back to school is complex and terrifying at times, Patla said it could be the most beneficial change of someone's life.
"Taking charge of your future and making decisions that will make you happier, more stable financially or more responsible, that's exciting stuff," Patla said. "It won't be easy. It isn't always easy for anyone. But arm yourself with the right knowledge, and take the time to choose the school and career that fit you best. Then you're sure to be successful."