KDOT

officials say school zone likely to be extended past Lawrence St.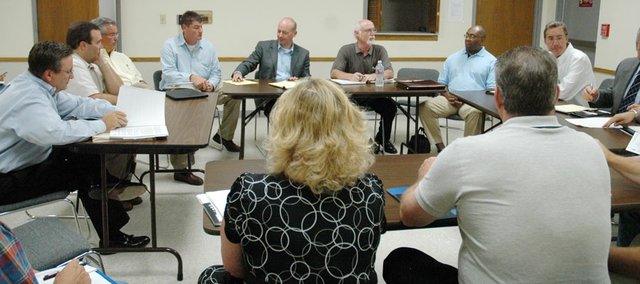 Safety issues at the U.S. Highway 56 intersection with Lawrence Street were addressed at a joint meeting of Kansas Department of Transportation and local officials here Wednesday.
The intersection is west of where Baldwin Elementary School Intermediate Center is located and hasn't been a problem, especially since a 45 mph school zone was added to the stretch of U.S. 56 in front of the school. However, the school district will be building the new Baldwin Elementary School Primary Center in the same area and the Lawrence Street intersection will be an access to it.
That brought concern during a recent joint meeting of the Douglas County Commission, Baldwin City Council and Planning Commission and KDOT's Brian Gower had at least part of the answer.
"KDOT's recommendation is to extend the 45 mph school zone west of that intersection," said Gower. "We would want documentation that the intersection will be an access point to that school."
School and city officials said that will be done and were pleased about the extension.
"The district certainly wants it to be safe out there and extending the school zone certainly gets us started that way," said Ande Parks, Baldwin School Board member.
County Engineer Keith Browning said the school zone was a good idea, but he will still have the intersection studied for other possible solutions. Lawrence Street is County Road 11 where the intersection with U.S. 56 takes place.
"That still leaves more traffic at the intersection on the hill," said KDOT's David Gerss. "KDOT is interested in seeing what Keith comes up with at that intersection."
One possibility is a left-turn lane at the intersection, depending on the cost. Browning also learned at the meeting that the school district is extending roads that will connect the two schools, which was unknown at the last meeting.
"I like the idea of extending the school zone," said Browning. "I like that Elm (Street) is being to extended to Bullpup (Drive). I think that's a huge help."
Mayor Ken Wagner asked Supt. of Schools Paul Dorathy about bus traffic to the new school using Lawrence Street.
"I can't nail it down for you today, Ken," said Dorathy. "We're going to try to educate our parents to use the huge turn lane that we already have (into BESIC). We need to utilize the one we have, the one that's paid for."
Wagner also brought up concerns to KDOT after the speed limit was raised from 55 mph to 60 mph on U.S. 56 several months ago.
"Since the speed limit has been changed into town, we've had a change in the mindset of people," said Wagner. "When we went to 60, the expectation is 'you better get out of my way.' There's a lot of road rage."
Gower said the speed limits will be monitored.
"We'll be taking speed tests at Bullpup and Lawrence and on the east side," said Gower. "We'll be looking at that this month. We will be revisiting the speed limits."
"Thank you for doing that," said Wagner. "There are a lot of people in town who are concerned with the 60 mph in town. They're not (concerned) when it's not in town. We had a pedestrian hit on the highway right after it happened."
Gower said complaints about speed limits are common after such changes.