Budget cuts loom again for school district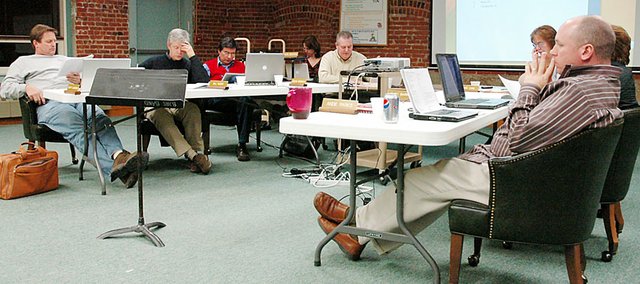 Supt. Paul Dorathy once again has to make cuts from the Baldwin School District's 2009-2010 budget.
On Thursday, Gov. Mark Parkinson announced that public education will be cut an additional 2 percent as part of a $160 million budget-reduction plan.
"For our district, their estimate is $105,871," Dorathy said. "That is an additional cut to what we had already been cut. So they've reduced us even more."
The cut in general state aid to schools will total $39.1 million. School districts were supposed to start the 2009-2010 year with a base state aid of $4,280, but that has now been reduced to $4,218.
While the district has made no official cuts after last week's news, Dorathy said any personnel cuts aren't likely.
"Some of our personnel are already contracted for next year, so it would be extremely difficult to release someone who already has a contract," he said. "So that would mean we would have to look at staff or resources that are not contracted to make up any more deficit that we've got."
On Monday, Dorathy said he will be working with Cynde Frick, chief financial director for the district, to complete the budget for next year. They will present a broad view of the budget at Monday's school board meeting, which begins at 6:30 p.m. at the district office.
"I think we'll have a pretty good idea next week," Dorathy said. "We've got to have the parameters of the budget ready to publish in the paper on Monday night. The final line-item budget doesn't have to be completed until the August meeting."
He said they aren't going to make cuts without looking at the budget as a whole. He wants to find out how much the district will have cut from next year's budget first.
"At this point, we are going to calculate up what our budget is, using the state's parameters for next year, based on what we believe will be our enrollment next year," Dorathy said. "Then we're going to take that number and subtract the difference between last year's budget and this year's budget to see exactly where we fall and how much more we may have to cut.
"So at this point, I'm not jumping in here and saying we have to cut $105,000 more," he said. "We've cut quite a bit. We're trying to make sure exactly how much we've cut and how much we would be short of making up that deficit."
The school district is already facing a $741,000 deficit in the 2009-2010 budget. That was announced during the spring. The largest chunk of that stems from the $390,000 the district is paying to provide health insurance for all of its full-time and several part-time employees.
The district will also be dealing with $204,000 in cuts from the state. The state base aid per pupil was cut from $4,400 to $4,280 earlier this year. The district might also be paying an extra $80,000 to help finance the special education co-op it shares with Eudora and Wellsville.
"In the end, a lot depends on our enrollment," Dorathy said. "If we are up, our cuts won't be as high as expected. However, if we are down, we will have to make more cuts."