BHS

assistant coach will wrestle at Sunflower State Games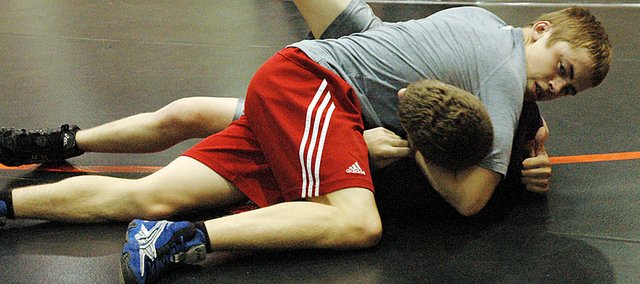 Joel Eberhart lost a bet he never really made last week.
Much to his surprise, the Baldwin High School assistant wrestling coach was told he will be competing in the Sunflower State Games wrestling tournament Saturday. Not only will he be wrestling competitively for the second time since graduating high school four years ago, but he will also be wearing a vintage BHS singlet.
"Coach Eberhart made a deal with the team that if five wrestlers go, he would wrestle," BHS coach Kit Harris said. "If 10 went, he would wrestle in an old-school Baldwin Bulldogs singlet. So once we hit 10, we were excited, but now we're up to 15."
According to Eberhart, the story is a bit different. He doesn't remember making the deal, but in fact, he was told of the deal while he was enjoying his summer vacation last week.
"I was on vacation and I got a text from Kit saying I was going to wrestle in the Sunflower State Games this year," Eberhart said. "I was like 'no way', but I did it last year. It wasn't really my challenge as much as I got told what was going to happen. Last year, they had like three go, so I thought they might get five. I didn't think there was any way they would get 10. Now we got 15, so these guys did a pretty good job of getting everyone rounded up."
Harris wasn't the only one involved in conning Eberhart into wearing a BHS singlet. Many of the wrestlers talked others into competing.
BHS senior Josh Hanson said he got freshman Bryce Shoemaker into wrestling this weekend. Shoemaker was the tenth local wrestler to sign up for the games.
"I'm going to coach him in his match," Hanson said. "It's going to be awesome. He is going to win. There's no doubt about it. It's pretty cool that he's doing this for the team. He's a pretty cool coach and he'll do anything for the team."
Eberhart wrestled for Labette County High School until he graduated in 2005. During the past two years, he's been an assistant coach at BHS while attending the University of Kansas.
Although he never agreed to the deal Harris made, he will be wrestling Saturday in Topeka.
"I don't want to let anyone down," Eberhart said. "We had practice yesterday and I'm pretty sore already. If I can get my soreness out before Saturday, I should be OK."
The idea of making Eberhart compete in a vintage BHS singlet must have been appealing to several local wrestlers. There will be 15 Bulldogs competing Saturday. They range from fifth graders to a 2008 BHS graduate.
"I've always tried to promote this tournament, but I've only had two or three wrestlers go each year," Harris said. "It's the same time as Fargo, but this year I've had more sign up. This will be a blast. We have 15 kids going, so we're likely to have a Baldwin kid going at all times. It will be fun for parents and coaches."
The Bulldogs who will be competing are Jesse Austin, Colton Bonner, Tucker Clark, Hanson, Thomas Lisher, Trenton McEnany, Andrew Morgan, Nick Rockhold, Cody Sellers, Bryce Shoemaker, Colby Soden, Carter Sudja, Coltin Thomas and Eberhart. Several of them have been practicing during the evenings this week to prepare for Saturday.
"A good number of the kids going are not in bad shape, because they've been doing camps or other competitions," Harris said. "The guys that haven't been doing that will still get in decent shape this week, considering we only have one week to practice. Most kids won't be in great shape for this tournament, so anything they can do will give them a big advantage for Saturday."
The increased attendance can be attributed to Eberhart's participation, which for many will be the match they watch most.
"That's going to be a big highlight," Harris said. "They want to see him in his Baldwin singlet. If he makes it to the finals, Josh Hanson is going to let him wear one of his Team Kansas singlets. However, he is in the same bracket as Nick Rockhold, so that will be interesting. They are the same age and about the same weight."