Wind puts end to fireworks display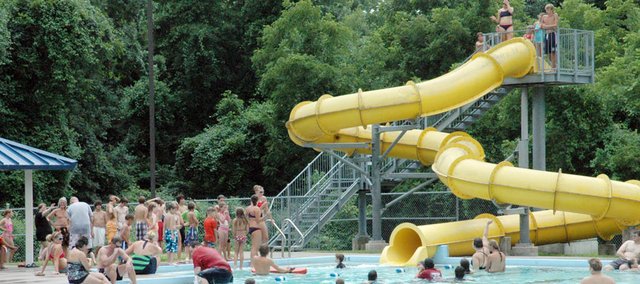 Northerly winds caused safety concerns for fireworks organizers, who shut down Saturday's Fourth of July show early.
As temperatures dropped Saturday night, a breeze from the north continued to cool off hundreds of families at the Baldwin High School parking lot. Unfortunately, the wind also created problems with the falling debris from the fireworks. So it led to a much-shorter display than expected.
"It was pretty good," said Steve Friend, Baldwin City Receation Commission director. "It was good for what we had and we had about 20 minutes of fireworks. The ending was very nice and they had some things I haven't seen before.
"The wind was a problem and we shut down early," he said. "We lost about 20 to 30 minutes of the show. The wind was blowing too strong and debris was drifting out of the safety zone. It was getting close to the school and houses. We don't want to cause any problems."
Other than the shortened fireworks display, Friend said the evening at the BHS ball fields was successful. He said the concessions and the kids' inflatables were slow early, but became busier after 8 p.m.
BCRC and the fireworks organizers were also able to bring in enough donations to pay for the entire event.
"The gatekeepers that were asking for donations did a decent job, because we got enough money to pay for everything," Friend said. "I'm really happy about that. The community has been very supportive of the event. We'll look forward to having the event next year."
Earlier in the day, the BCRC opened the Baldwin City Municipal Pool from 12:30 p.m. until 4 p.m. During those hours, the crowd was steady, but not quite as large as in past years. However, that didn't stop visitors from enjoying the free hot dogs, music and games.
"Our attendance was down, from what I've been told," Friend said. "Everything went good. I think we went through our 500 hot dogs, watermelons and we did our competitions. The DJ was fine. It's just that our numbers were down.
"We're debating about why numbers were down," he said. "We think maybe because it was on a weekend this year and there are more things going on elsewhere. It was a little cloudy in the morning, so maybe if it was burning outside, things might have been different."
Friend also wanted to thank everyone involved with the Fourth of July celebration. He said organizers will be meeting again to discuss the event.
"We are getting less and less help with setting up the fireworks," Friend said. "They work from 1 p.m. until midnight. Chad England said they really need some help. That's what we are going to work on for next year. We will try and find several people to help for a few hours. We will meet as a group and talk about ways to make the event better next year."