Fourth of July weekend leads to unprecedented crowding at Humane Society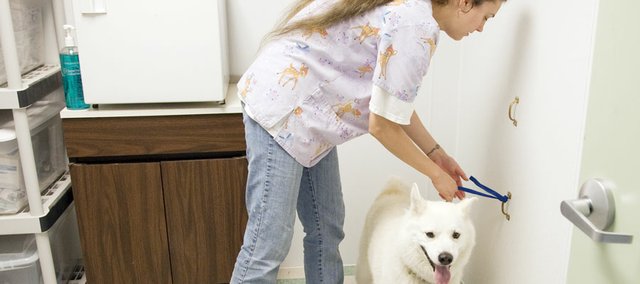 A busy Fourth of July weekend has the Lawrence Humane Society on the brink of capacity.
As of Monday afternoon, the shelter had openings for two average-sized dogs. That was two more spots than were available Thursday night, when the shelter had to tell Douglas County dispatchers there wasn't any room left at the shelter.
"I have been here almost 13 years and I have never had to tell dispatch we are done until tomorrow morning," said Midge Grinstead, Lawrence Humane Shelter executive director.
The shelter currently is holding about 350 dogs. About 100 of those dogs are runaways, Grinstead estimates.
The combination of outdoor gatherings and dogs' fear of fireworks means more dogs were on the loose last weekend than normal.
"Fourth of July is the biggest time of year for us," Grinstead said.
She encourages owners to visit the shelter — rather than just call — to see whether their missing dog is there. Shelter workers' descriptions of dogs could be different from an owner's description.
On Thursday evening, all eight open spots at the Humane Society filled within hours. The last two stray dogs taken into the shelter had to share a kennel. After that, the Humane Society called dispatch to say it couldn't take any more until Friday morning.
"We doubled up on dogs and sent some home and just tried to get them out of here, but we are experiencing the exact same problem today," Grinstead said Monday morning.
Last weekend, four dogs were involved in a biting incident, but just one dog was taken to the shelter. The three other dogs were quarantined at home.
"Normally, we would have taken all four, but we knew we couldn't fit them in," Grinstead said.
If more animals keep coming into the shelter, other dogs will have to be housed together, which makes for crowded and messy conditions.
By doubling up dogs, another 60 spaces could be opened up. After that, Grinstead said, calls will have to be made to see whether other shelters can help.