Fireworks ready to fly on Fourth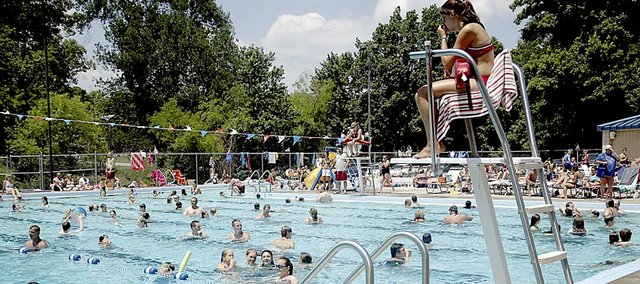 As the old saying goes, the show must go on.
Despite a lack of donations, Baldwin City will still have a fireworks show Saturday night. Financial assistance is still needed for the annual Fourth of July show.
"We've had some individuals and businesses make donations," said Steve Friend, Baldwin City Recreation Commission director. "We're right on pace for what we need, but we could still use a few more to cover all of our costs. We will also be collecting donations Saturday night."
Volunteers will be taking donations at the Baldwin High School parking lot as the show will take place north of the BHS ball fields. Contributions can also be made at the BCRC office at 715 High Street.
The fireworks display will begin at dusk. The show is expected to last 30 to 40 minutes, slightly shorter than last year's show.
"We're spending the same amount of money as last year, but it is buying us a little bit less," Friend said. "The show will be a little bit shorter than last year."
The evening events will last from 6 p.m. to 10 p.m. at the ball fields. They will include a free moonwalk, obstacle course and other inflatable attractions. There will also be a disk jockey and music, along with concessions.
Before the evening activities begin, the BCRC will once again be opening the pool with free admission. The Baldwin City Municipal Pool will be open from 12:30 p.m. to 4 p.m.
While the pool is open, there will be free hot dogs (while supplies last), a disc jockey, music and games. At 4 p.m., the pool will close so organizers can prepare to set up the evening activities.
"I think we're ready to go at the pool," Friend said. "We've ordered 500 hot dogs this year, instead of 400. The pool managers will have their games they usually have each year. It's always packed down there. The hot dogs go quickly, too. We'll see what happens this year, but the weather always plays a factor into those types of events."
Baldwin City's annual fireworks show almost ceased in 2006. A lack of funding and support were the primary reasons the event was canceled, until the Signal's article sparked local interest. In four days, enough money was raised to bring the event back to Baldwin for another year.
Since that year, the BCRC and event organizers have brought in enough donations to keep the holiday celebration alive. Friend hopes that continues in years to come.
"I think we're one of the few places that are having a fireworks show," Friend said. "I've heard other towns aren't having a fireworks show, because of cutbacks. We might be one of the few in the area that have it. We'll try to keep it as long as we can support it. If everybody gives a little bit, it certainly helps."