Newcomers enjoy annual
BHS

soccer camp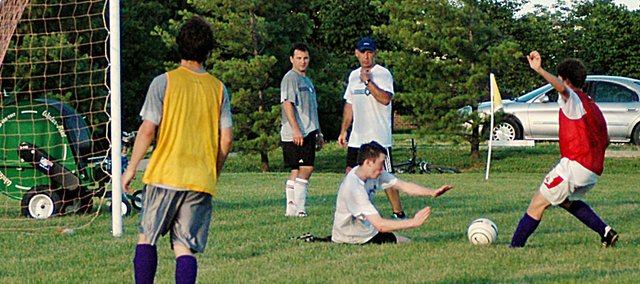 Last week's Baldwin High School soccer camp had one goal — lots of touches with a ball for each player.
Second-year coach Matt McCune had that simple goal in mind for his team during his annual summer camp. The 30 or so players who attended the four-day camp did just that.
"I had every player get a whole bunch of touches on the ball," McCune said. "We worked on moves, feints and fakes. I just wanted them to be more comfortable with the ball. We did a dancing competition with the ball. We also did a lot of running with the ball."
Like most summer camps, it wasn't all serious. McCune tried to incorporate games and fun into his team camp.
"We always have a lot of fun, too," he said. "We have competitions where we change teams and play some 3-on-3 games. We also have a 10-on-10 tournament at the end with some alumni."
McCune also saw improvement by many players from the beginning of the week until the end.
"They showed huge improvements by the end of the week," McCune said. "Some of the kids were tripping over the ball at the beginning of the camp, but they learned the step-over move I was teaching by Thursday, so they could do the right technique with the right timing. Obviously, some kids improve more than others and it's nice to see that wide range of talent we have on the team."
The response from several players showed that McCune did keep the camp light-hearted. Freshman Austin Kraus was one of those players.
"It was definitely fun," Kraus said. "We did lots of different drills and games. We got points for winning them and we added them up at the end of camp."
Carrie Dietz is another incoming freshman who enjoyed her first BHS team soccer camp.
"It was fun," she said. "It was really hot, too. We had a lot of stuff to do, but I learned a lot. "I probably won't even remember most of it, but I did learn a lot all week. I learned a lot of footwork stuff and how to work with the team, really. I also learned a lot about offensive things."
Weather did affect the camp in two ways. Temperatures soared into the 90s last week with the heat index around or more than 100 degrees on some days. The twice-a-day camp did wear some of the Bulldogs out by Thursday.
"It was mostly hot, because we didn't have much cloud cover each day," Kraus said. "We would be really tired after each session, but we would rest up until the next one."
Weather also canceled one of the sessions. Thunderstorms rolled into Baldwin City on June 24 and lightning forced McCune to cancel the night session.
"We had seven sessions and it went pretty well," McCune said. "I had about 30 participants, so I was happy."
The BHS coach was pleased with the number of participants last week, but said nearly one-third of the team was missing. McCune expects around 45 Bulldogs on the team in August, but he said some missed the camp, because of work or vacation.
However, he is excited about the increased interest in the sport and the team at BHS.
"I think soccer is becoming more and more popular," McCune said. "You also have to remember we play boys' soccer in the fall, but we are a co-ed team because we don't have a girls' team."
Several of the players enjoyed spending time with their teammates and hope the camp will benefit the squad during the season.
"It was a good week," junior Brandon Baltzell said. "It was hot, but we were glad we had the camp. The new players coming in showed a lot of potential. I'm pretty happy about that and it should pay off in the season. We are excited about our depth this year."
Kraus took the chance to meet his new teammates last week.
"It was nice to learn their names," he said. "It was fun to play some of the upperclassmen and graduates. The alumni had some really good people playing."
Although the camp was beneficial for many of the Bulldogs, they are also finding other ways to improve this summer. Many of the players are meeting at Liston Stadium to scrimmage on Tuesday and Thursday evenings before Bulldog Days.
"They are able to get together and play twice a week," McCune said. "I think they've had around 30 kids scrimmaging. We also want them to work on conditioning, so we encourage sticking around for Bulldog Days after the scrimmages."
BHS junior Sam Richards is hoping the scrimmages build the team chemistry before the season begins.
"The scrimmages are lots of fun," Richards said. "They are helping everyone get into shape for this season and giving the new players an idea of what they will be going up against this year."