Camaraderie strong amongst tennis buddies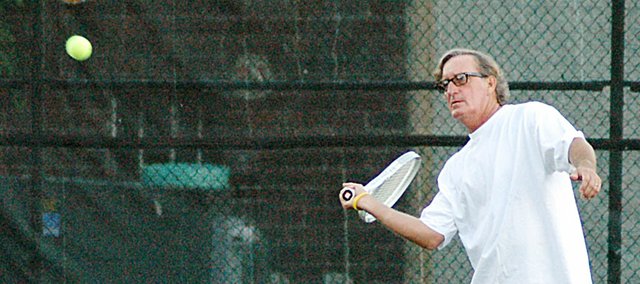 Needing a fourth player for a game of doubles' tennis, Alan Wright called upon one of his friends.
A slightly injured foot wasn't enough to stop Gerard Arantowicz from joining three of his tennis buddies one evening this summer. Well, peer pressure and some teasing from the guys made the decision easy.
That's the type of camaraderie that has been formed on Tuesday and Thursday nights at the Baker University tennis courts during the past few years.
"I was not feeling well and these guys needed a fourth player," Arantowicz said. "So they called me and kind of insulted me on phone by telling me to get out of the air conditioning. That was enough to bring me out and we had a good 2-on-2 game."
According to Arantowicz, the secret to playing with an injured foot is to make the partner run more. He also said that strategy can be used for any match that is played during the Baldwin City tennis nights.
"You don't have to run a lot if you have a partner that runs a lot," he said." That's the beauty of it. If you have a fast partner, you can stay in one spot a lot."
Arantowicz and Wright were two of the original organizers of the summer tennis nights. They began in 2004 when several local men organized recreational tennis nights at the Baker courts.
"It was like a boys' night out kind of thing," Arantowicz said. "A lot of the pillars of the community would come out, mostly men though. Now more women and kids have begun to come out and play, too."
The nights began as informal gatherings between buddies. During the past five years, they've evolved into community events, which happen twice a week.
"It's never been really formal until this year," said Bruce Anderson, Baker political science professor and interim men's tennis coach. "This year we've had a ton of families come down earlier in the evening. There's a group that comes in around 5 or 6. Sometimes when I come in early, the courts are full."
Arantowicz was happy Anderson became involved in the tennis nights.
"We were playing prison rules there for a while," Arantowicz said. "Then Bruce came along and brought some professionalism to it. We've become more organized."
Another local that began playing at night with the group is Tony Brown, former Baker psychology professor and now Kansas State Representative. Brown remembers how quickly the group grew and how it happened.
"It just spread by word of mouth," Brown said. "People just said, 'If you want to play tennis on Tuesday and Thursday nights, show up and play.' It wasn't even a specific time. People just showed up when they could and jumped in when they could."
Packing the courts
From those simple beginnings, a community gathering has evolved. After 8 p.m. on Tuesday and Thursday nights, the Baker courts are busy with action. However, it's no longer a group of men.
The courts are packed with women, children and families, too. Former high school and college players have also been seen playing at night. In fact, current Baldwin High School athletes have also joined the phenomenon.
"We've had high school kids come out there and hit plenty of times," Anderson said. "Of course, we have old (folks) like me, too. We've had some quite elderly people come out and play. These are folks you see a lot of the time anyway. Most of the regulars are Baldwinites."
Besides all ages being welcome to play, all skill levels are also welcome. They actually want players with a wide range of abilities to attend, because it balances the matches.
"The beauty of it is there is no skill level that is required or expected," Brown said. "You can be a really skilled player or somebody who is just out there for the exercise. Nobody scoffs at you if you make a bad shot or double fault. You just play to the best of your ability."
Advice for newcomers
Anderson, Arantowicz and others welcome beginners and others who are new to tennis to come play on Tuesday and Thursday nights. Anderson even offered newcomers a few tips.
First, they usually try to pair everyone up and play doubles. Second, he said most people begin showing up to the courts between 8:30-9 p.m. Third, everyone respects the other players, so even beginners can feel welcome.
"It's completely anarchic and it's always sort of been this way," Anderson said. "When people show up for the first time, we try to get them on the court right away. No one is assigned to play anywhere, because no one is in charge. People coming for the first time shouldn't be intimidated at all."
He also said most players are competitive, but not to the point where it gets out of hand. He said everyone is out there to have fun.
"It's very friendly competition," Anderson said. "Nobody is out for blood or anything. I mean sure, tennis is a competitive sport. Most of us have played with everybody there and against everybody there, so it never gets to a high competition level at all. People do play to win."
While the tennis doesn't begin until after 8 p.m., players might stay on the courts for a few hours.
"Sometimes we even play until midnight," Arantowicz said. "Anyone can play and we play doubles. It doesn't matter how good or bad you are, we can balance out the teams and have a good game. The summertime brings out all ages and all levels. It's great to see. It's a great community thing that just started on its own, basically."