BHS

football players stay busy during summer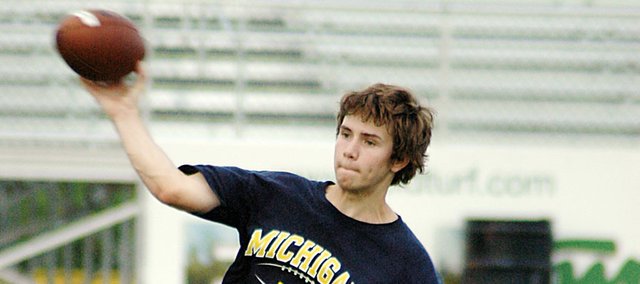 New state rules have kept Mike Berg and his Baldwin High School football team busy during June.
The Bulldogs' month began with a team camp at Baker University. Since then, they have been busy lifting weights, practicing and participating at Bulldogs Days. That keeps them busy for three days a week.
"We have kind of a crazy schedule," coach Berg said. "We practice three days a week. I know we are going to be so far ahead because of what we've done in June and will do in the early part of July."
Several Baldwin High players attended a camp at Baker, which was hosted by the Wildcats' coaching staff.
"We were able to get some college coaching," Berg said. "That puts us way ahead. That was a full-padded camp, so it was like starting two-a-days."
Since then, they've been busy three days a week. On Mondays, the Bulldogs are encouraged to attend Bulldogs Days in the morning. After the workout, they stay at Baker University's Liston Stadium for an offensive team practice on the artificial turf field. They have also been playing 7-on-7 football in De Soto during the past few Monday nights.
Their Tuesday and Wednesday mornings are very similar, except the 6 a.m. Bulldog Days is optional on Tuesdays, but highly encouraged on Wednesdays. The offensive and defensive linemen practice on Tuesdays, while the whole team practices defense on Wednesday mornings. The BHS players lift weights both days.
"It's been an awesome experience," senior Sam Foye said. "We get the feel of the turf for when the season starts. But the waking up at 5:30 in the morning isn't the greatest. It's always tough to run at Dog Days and then go to practice, especially on those days where George (McCrary) singles out the football players for a 'special' running session."
Junior Will Von Bargen has also enjoyed the extra time with the team this summer.
"They have been tough and they are making us a better team with everyone showing up and giving it everything they have to make the team better," Von Bargen said. "I think the extra time will pay off, because it gives us much more time to perfect our strategies and really find out which player will play where instead of doing that all during the real season."
Both players were pleased with the attendance at the workouts and weight-lifting sessions this summer.
"Most of our team is showing up for weights," Von Bargen said. "Everyone is working hard to get stronger and become a better player, but the numbers could still be higher. We are trying to get everyone there."
Foye agreed, saying the new rule, which allows football coaches more time and the ability to coach their teams during the summer, will benefit the team this fall.
"It's going to pay off, because we are learning a new offensive formation and we need the coaches to teach it to us and the players to run it," he said.
The new rule has also allowed Berg to coach his team during the 7-on-7 contests. That's where he's seen his team improve the most this summer compared to prior years.
"That's where we've seen a big difference is in our passing game," Berg said. "In the past, we did 7-on-7, but we couldn't coach them. They were just out there with a volunteer or parent.
"The kids ran the routes, but we couldn't tell them to run the route better or why they dropped the ball," he said. "We couldn't tell the quarterback anything either. It was basically backyard football. Now we can actually coach them and tell them how to improve. We've seen much improvement in our passing game."
One adjustment Berg's had to make this year is moving his team camp ahead two weeks. He's usually hosted it near the end of July, but the state rule change says coaches must finish all team camps before July 18. Therefore, the Bulldogs are having camp July 13-17.
"I'm excited for camp, because the team camp is always one of the most fun parts of summer," Foye said. "It's when most of the people, who are going to play football, all get together and we can see who will be playing what position and who will be starting."
After July 18, the BHS coaches aren't allowed to work with the entire team and they are hampered by state rules until the official first day of practice in August. However, Berg is hoping his players continue improving and getting conditioned for the fall.
"We want them to continue going to Dog Days and lifting," Berg said. "In August, we are going to do a conditioning week, where we are going to focus on getting in shape. We want them to get in shape now, but also build muscle. We don't want them to worry too much about lung capacity right now."