BHS

girls continue annual Top Gun streak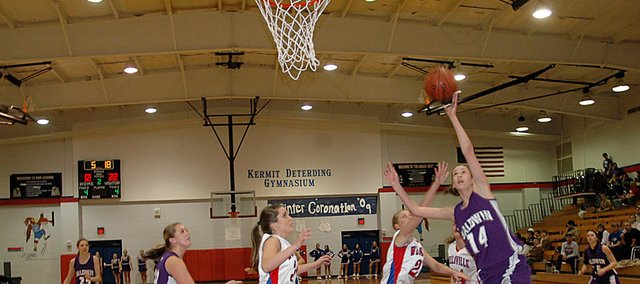 WELLSVILLE — For the 19th straight year, the Baldwin High girls' basketball team has won its opening round game of the Top Gun Tournament here.
On Tuesday, the No. 4-seeded Bulldogs (6-4) beat host No. 5 seed Wellsville 62-30. It marked the second victory for BHS over the Eagles this season.
"Tonight we finally came together as a team," senior Calleigh Durr said. "Lately, we've been playing well for some quarters, but tonight we had a full team effort for the entire game."
The Bulldogs have never lost in the first round of the annual tournament. It's something coach Bob Martin doesn't like to talk about much, but he was happy Tuesday.
"I don't even want to think about it," Martin said. "It's pretty nice. It's going to happen sometime, but I'm glad it didn't happen this year."
BHS took control of the game in the second quarter and never looked back. The Bulldogs led 13-12 after the first quarter, but proceeded to run off the next 10 points in the contest.
"We shot really well and whenever you shoot really well, you look good," Martin said. "I think it may have been our best all-around game. We executed really well offensively. We got good shots and we were able to hit them. Defensively, we were solid all night. We also rebounded well tonight. It was a good effort on our part."
Senior Tracie Weege drained a trio of three-pointers in the first half to help the Bulldogs. She went on to make two more and score a game-high 18 points.
"Certainly, Tracie knocked down some shots early," Martin said. "That's good for her, because she is important to our offense. When she's on, we're not bad."
The onslaught continued in the second half. Baldwin outscored the Eagles 16-4 in the third quarter. Senior Alex Zordel and junior Ramie Burkhart helped the Bulldogs' offense Tuesday. Burkhart scored 15, while Zordel added 10 points.
"We were looking to get the ball into Alex a bit," Martin said. "Ramie was able to knock down some shots tonight. She's had several good offensive games since Christmas. We just got on a nice run there and we haven't had many runs like that on offense."
The Bulldogs bothered Wellsville with a full-court zone press for most of the contest. The press forced several Wellsville turnovers that the Bulldogs capitalized on.
"We've been working on the press a lot," Durr said. "It hasn't worked that well until tonight. It just came together and really worked for us."
Baldwin will play No. 1 seed Saint Marys at 7:45 tonight in Wellsville. The two teams met in last year's semifinal, with the Bears winning the game.
"I'm really excited to play them," Durr said. "They got the No. 1 seed and you always want to be the team to knock off that No. 1 seed. Plus, I really want to be playing for that championship on Saturday."