Baker students soak in history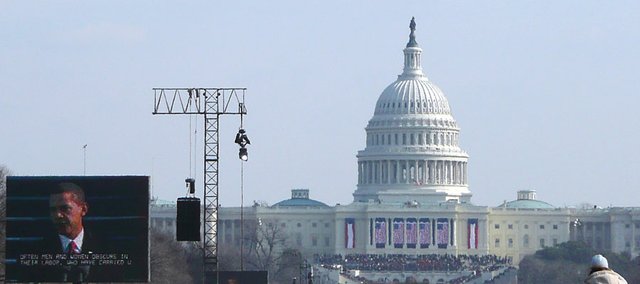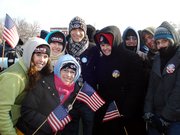 Finding the proper words to describe the emotions and feelings surrounding last week's inauguration of President Barack Obama was tough for a handful of Baker University students.
Just remember, they were 16 of the more than a million in attendance in Washington, D.C. Those students and Baker professor Lee Green witnessed history last week in the nation's capital.
"I find it hard to describe in words what it was like to be at such an historical inauguration," Adam Kenne said. "We arrived on the National Mall around 4:30 a.m. I have never seen so many people from so many different walks of life, full of so much energy, excitement and hope."
Some students in the group, along with Green, woke up early on the morning of Jan. 20 to secure a spot amongst the crowd. A few lucky Baker students like Kendra Hanson were provided tickets from Congresswoman Lynn Jenkins.
However, those tickets didn't ensure Hanson and others a great spot to watch from. Hanson said she almost didn't make it into the National Mall, because security stopped letting people through the gates.
"I was grateful for the opportunity to be at such an historic inauguration," she said. "I barely made it in, but then people just stampeded through without getting checked. Because of this, I didn't end up where I was supposed to be and couldn't see much, but I could hear everything on the speakers."
Green and a group of students were standing ahead of thousands of people in the crowd. He estimated the first 400 yards of people from the Capitol Building were important figures, because they were allowed to be seated. He said his group was only about 100 yards or so behind the seats.
"We were right behind the reflecting pool," Green said. "We were in a pretty good location. "It was an absolutely incredible experience. It was incredible to be there on that day. The amazing thing was there wasn't a single arrest. I've never been part of such a collective experience. It was very exciting."
Of course, the group of Baker students were in Washington D.C. to see the 44th U.S. President be introduced into office. For Dana Hacker, the thought of being in Obama's company, along with many others, had her awestruck.
"Being at the Inauguration was nothing like I ever imagined," Hacker said. "I knew there would be more than 3 million people there, but I couldn't really comprehend what that many people would be like until I was actually there. The feeling that I was a part of history was overwhelming.
"It still hasn't really hit me yet that I was in the same general area as so many important and influential people like Barack Obama, Joe Biden, George Bush, Chief Justice Roberts and even Aretha Franklin and Yo-Yo Ma," she said. "It will be a great story to tell my grandchildren that I was there at the 56th Inauguration (which was for the) 44th President of the United States."
Fighting the crowd
According to Green, the estimated crowd at the 2009 Inauguration was 1.8 million. That might be more than the combined crowds for the previous five presidential celebrations. Green has brought an Interterm class to the event every four years, starting in 1989.
While most everyone anticipated a crowd for last week's historic event, making your way through that many people can be quite a challenge.
"It was amazing to be able to say that I was there to hear it live," Hanson said. "However, I think the best part was just getting to experience the feel of the crowd and the atmosphere as people from all over the world came together to celebrate this historic event."
Since the crowd was predicted to be over 1 million, speakers and jumbotrons were placed all over the National Mall. That provided sound and video to viewers who were too far from the Capitol to hear or see the speakers.
Some of the Baker students were in awe of the mass of supporters for Obama. They even tried to arrange a place to meet to watch the Inauguration together, but the crowd was too much.
"Being part of a crowd that size made me feel awestruck that so many people took the time out of their day to be there and support our new president," Hacker said. "You could tell when it was time for Obama to be sworn in, the increase in the crowd's energy was amazingly intense.
"A couple of us tried to meet up with the rest of the group near the National Gallery of Art, but the crowd was too densely packed and we couldn't make it that far," she said. "I ended up right across from the Smithsonian Castle, which is about the middle of the Mall. I actually had plenty of space and a great view of one of the jumbotrons and the Capitol."
Tourist attractions
Although the primary reason for the Interterm class at Baker University was the Inauguration, the group did spend 12 days in Washington D.C. Those 12 days were busily spent touring the city.
Those destinations included the Washington Monument, Lincoln Memorial, Smithsonian Museum and many other historical places. On the day before the Inauguration, the class even sat in on a Supreme Court case.
"We went on a real in-depth site-seeing tour during the first few days," Green said. "One of the neat things we did was visit the Supreme Court. We took a tour of it, but we were also able to sit in during a real case. It was a case that involved the state of Kansas so that was kind of special to witness."
While the sites were memorable and exciting to see, Hanson agreed with her teacher about watching the Supreme Court case.
"My favorite places were all of the memorials and monuments, because it's an experience getting to see them in person instead of just in pictures," she said. "My favorite activity, though, was getting to hear a whole case argued in front of the Supreme Court, because I'm planning on becoming an attorney. I was awed at the courtroom and being able to watch the justices and how they ask questions of each attorney."
Another eventful activity for some of the students was a concert on Jan. 18. It featured many legendary musicians, such as U2, Bruce Springsteen, Sheryl Crow, Mary J. Blige and James Taylor. Barack Obama spoke to the crowd at the end of the concert, making it that much more enjoyable for Kenne.
"The concert included an all-star line-up and was intended to send one message," he said. "That message would continue through all of the inaugural festivities. That message was 'we are one.' To be surrounded by 800,000 people, a crowd made up of all backgrounds, was a powerful experience. It's one that I will not soon forget."