BHS

girls sweep Osawatomie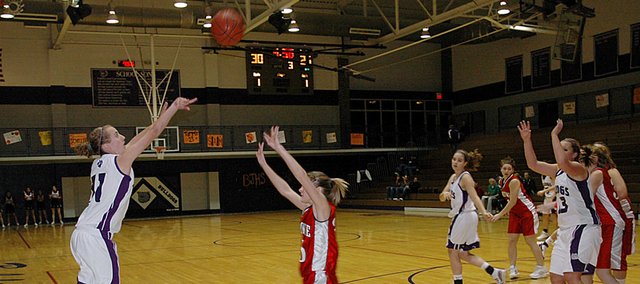 Despite only shooting 50 percent from the foul line, the Baldwin High School varsity girls' basketball team defeated Osawatomie 53-42 at home Wednesday night.
Baldwin only made 14 of 28 free throws in the contest. The Trojans sank 15 of 23 shots from the foul line Wednesday.
"I thought we did several things well tonight," coach Bob Martin said. "We hit some outside shots tonight. We moved the ball around nicely offensively. We executed pretty well in the second half. I was disappointed we weren't able to put them away."
The Bulldogs (5-3) were led by senior Alex Zordel, who scored 12 points. Sophomore Ramie Burkhart chipped in nine points.
In the junior varsity game Wednesday, the Bulldogs cruised to a 58-12 victory. Baldwin held Osawatomie to just two points in three separate quarters.
Four Bulldogs scored in double figures. Sophomore Myranda Behrens led the team with 12 points. The other double-figure scorers were juniors Julie Hill (11), Katie Brecheisen (11) and Rachael Enick (10).
The BHS freshman girls' squad also won with ease. The Bulldogs shut the Trojans out as they won 36-0.
Madeline Brungardt scored a game-high 19 points. Kara Hoegerl added seven, while Claire Peterson chipped in six points.
"In the freshman and JV games, we just overmatched them," Martin said. "We played well, which is good."
Baldwin will next play tonight at Saint James Academy before competing in the Top Gun Tournament in Wellsville next week. On Tuesday, the Bulldogs will play Wellsville at 7:45 p.m.