Local students advance to county spelling bee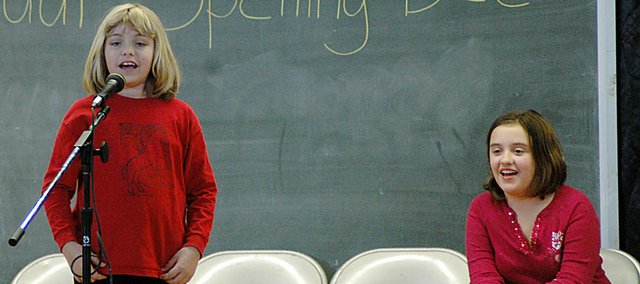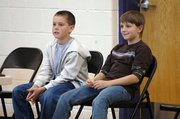 Behind Dalton Good's confident demeanor hid a nervous fifth grader Friday afternoon.
His nerves of steel prevented a slip-up as he spelled word after word correctly. To make things more nerve-racking, the Baldwin Elementary School Intermediate Center student was competing against his classroom buddy, Nick Pattrick, in the finals.
"I was shaking, especially in the finals," Good said. "I was nervous. Some people can answer confident but act nervous. It can get scary sometimes, being up there. I knew it was going to be tough, because I knew he (Pattrick) was a pretty good speller."
In the end, the two students in Doug Woolery's classroom would battle it out over two homophone. After Pattrick misspelled a word, Good correctly spelled it. Then he had one more to win the contest.
After asking for the definition, Good went letter by letter, spelling "serial." The 45-minute spelling bee was over.
"It was very exciting, because I did it last year and didn't do that well," Good said. "It was exciting. It was kind of funny, because me and my friend Nick were the last two in our classroom and in the gym. It was a close one.
"I asked for the definitions on both words, because I know they can be spelled different ways," he said. "I know lots of definitions of those words."
Good will now advance to the Douglas County Spelling Bee on Feb. 7. Pattrick will be his alternate in case Good is unable to attend. Good is just one of three local elementary school students that will be attending the county contest.
Marion Springs Elementary School held their spelling bee on Jan. 14 while Vinland Elementary School had its the following day. The MSES winner was fifth grader Ellery Hoyt and her alternate was fourth grader Jenna Flory.
"It was really fun," Hoyt said. "It was exciting, because it was my first time. I was very nervous."
They were two of 12 participants who stood on the stage in front of the entire MSES student body. Hoyt's winning word was February, which almost gave her trouble.
"I forgot the first 'r' at first," Hoyt said. "I forgot the capital 'f,' then I forgot the 'r' after the 'b' in my head. It was tricky."
There were 10 students from VES participateding. In the end, it came down to fifth grader Cody Latham and fourth grader Hannah Spriggs. Latham edged the younger opponent to advance to the county contest.
The three Baldwin School District students will compete in Lawrence against students from across the county. However, the county contest is also open to sixth, seventh and eighth graders from Douglas County.
"We're always on the lower end of that, because we have a fourth or fifth grader competing," BESIC Principal Tom Mundinger said. "It's tough, but our kids have usually done a pretty good job."
Good is ready for his chance to compete.
"I'm excited and nervous because its fourth through eighth grade," Good said. "I've been thinking of some hard words that might come up and looking them up in the dictionary."
Hoyt said she will study for the contest.
"My mom printed out a list of words from an Iowa district spelling bee," she said. "I have 700 words to spell. I'm going to try and do about 200 of them."
The other participants from BESIC were Lily Fursman, Amy Pouliot, Jackson Barth, Jordan Peery, Daniel Vakser, Austin Langham, Ben Ogle, Alaina Schiffelbein, Remington Moseman, Emma Bailey, Adam Carlson, Morgan Rickey, Emma McLaren and Toby Vajnar.
The other participants from MSES were Clayton Behrens, Elizabeth Shrock, Riley Fletcher, Dylan Voigts, Adrian White, Jonathan Colindrez, Jacob Shrock, McKinley Markley, Grace Baxter and Grace Brazell.
The other participants from VES were Johannah Knowles, Nick Mead, Zsofia Nemeth, Dallas Latham, Codi Thompson, Aubrey Wilcox, Tanner Jackson and Olivia Lange.