Council to take another look at 2009 budget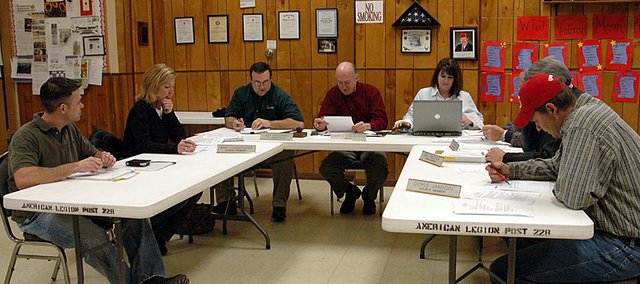 After new Baldwin City Council Member Mike Magers took the oath of office, the council decided in light of the tough economic times ahead to take a look at the budget again and delay major purchases.
Magers was sworn in to replace Tony Brown, who resigned in December. Brown's now serving as 10th District State Representative in Topeka.
The council moved into the remainder of the agenda that included the purchase of a new patrol car and animal control vehicle for the police department. It didn't make it very far.
"Based on discussions I've had with Amy (Cleavinger, council president), the finance committee might review the budget before making these purchases," said City Administrator Jeff Dingman.
Both Dingman and Cleavinger assured the council that there weren't any pressing concerns, but just felt a review was warranted.
"In light of everything, including what the county is facing, we just thought it was a good time to look at it (the budget) again," said Cleavinger. "We were conservative, but I think it's a good idea to look at this again before making any purchases."
The low bids on the vehicles totaled around $34,000. The entire council agreed to table the items.
"Without a doubt, it's not a crystal ball, but we're heading down a rough road," said Mayor Gary Walbridge. "It's going to get rough. It's time to get smart, real smart."
Cleavinger said the finance committee was aware of that when drawing up this year's budget.
"I think we all had a real understanding of what was going on, so I don't think we went overboard," she said. "I think we need to review it, but we were conservative."
Council Member Ken Wagner agreed that caution was in order.
"I don't think we need to panic, but I think we need to take another look," said Wagner. "We all read the same newspapers and when you see Lawrence, Douglas County and Johnson County cutting back, it gets your attention."
As for the appointment of Magers to fill Brown's council seat, Walbridge had left it to Brown to make the selection, but it was the mayor's appointment to make.
"Congratulations, Mike," said Walbridge. "It's been a historical day for a lot of people. Welcome aboard."
The mayor's historical reference was to President Barack Obama's inauguration Tuesday. Magers, owner of the Salt Mine, who ran for council in 2000, didn't think his appointment was in the same league.
"I think this will be overshadowed by that," said Magers after taking the oath of office from City Clerk Darcy Higgins.