Bulldogs slam Braves
BHS

boys' basketball team wins first-round

BIT

contest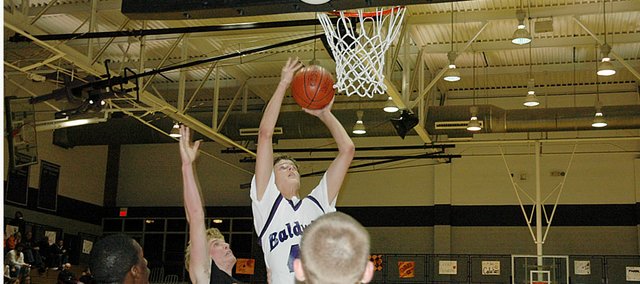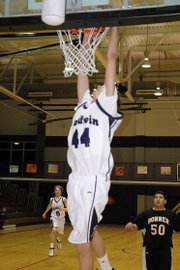 Justin Vander Tuig and Brandon Tommer electrified the crowd Tuesday night.
Although the two teams combined to score 161 points, it was only four that nearly brought the house down. A pair of thunderous dunks by the Baldwin High School duo received loud ovations from fellow students and fans. Even their coach was thrilled after the game.
"It's great to get dunks," coach Eric Toot said. "It gets everybody excited and it means you're being aggressive instead of just laying the ball up. That's why the NCAA and pro guys dunk. If you have a dunk, you should take it and that's what we tell our kids."
The two dunks sparked the Baldwin High School boys' basketball team to victory over Bonner Springs. The Bulldogs (5-3) beat the Braves 87-74 to win their opening game of the 40th annual Baldwin Invitational Tournament.
It was Vander Tuig's two-handed stuff that ignited a 14-6 BHS run to end the second quarter. Senior Clad Kueffer grabbed a defensive rebound and found Vander Tuig wide open down court and all alone.
The 6-foot-8 BHS sophomore dribbled twice before throwing down his first high school dunk. He slammed once as an eighth grader, but had none last year.
"It's always nice to get a dunk in," Vander Tuig said. "It gets the other players pumped up and it gets the crowd pumped up. It gets your adrenaline going a bit. It's been a while since I've had one."
After watching Vander Tuig slam, the 6-5 senior Tommer had to match him. He got his shot late in the contest when the game was out of reach.
A BHS steal turned into an assist to Tommer, who thrilled the crowd with a one-hand power slam. It was the final two points of Tommer's game-high 27 points.
"I didn't know if I was going to get it," Tommer said. "I kind of cocked the ball and wasn't sure I was going to make it. Justin's dunk fired me up so I had to get one."
Tommer also sank four three-pointers Tuesday to lead the Bulldogs. He exploded for 27 points, while Vander Tuig quietly added 20 in his third game of the season.
"I thought I needed to come back with a big game," Tommer said. "I had an off first half against Paola so I had to have a good comeback game to bounce back."
Tuesday's contest was all about three-pointers. Bonner Springs runs an offense that relies on the outside shot. On Tuesday, the Braves attempted more than 40 threes and made 12. Seven of those field goals came in the fourth quarter.
"They shoot so many threes that you worry they are going to get hot and eventually they did in the fourth quarter," Toot said. "We just struggled on the boards in the fourth. They hit seven threes in the quarter and four were off offensive rebounds."
The Braves' defensive scheme was unlike any team the Bulldogs have played this year. They applied a full-court trapping press on the Bulldogs. In the half court, the Braves also trapped the ball handler.
"We knew going in it was going to be a crazy game," Toot said. "It's like a game we've never played. Their philosophy is they want you to either turn the ball over or shoot layups. That's exactly what we did in the first half. We either turned it over or scored. I thought we actually played more under control and calmed down in the third quarter."
Baldwin led by 31 points in the middle of the third quarter. Then the Braves became hot from behind the arc. Within a two-minute span in the third and fourth quarters, the Braves went on a 15-1 run.
"We've just got to learn how to focus for 32 minutes," Toot said. "We haven't done it all year. We've got to learn how to put teams away."
Baldwin will now face another Kaw Valley League team in the BIT semifinals. BHS will square off against Perry-Lecompton at 7 p.m. Friday.
"Perry is a very good basketball team," Toot said. "They were highly rated coming into this year. They got off to a slow start because of football, but they've turned it around since Christmas break. We need to have two good days of practice to prepare for them."
Friday's game will feature players from both teams who played against each other in October's nail-biting football contest. Some of the players have also played in the summer together.
"I've played some summer ball with a couple of guys from Perry," Tommer said. "We've got a little rivalry."