BHS

seniors place high at Bobcat Classic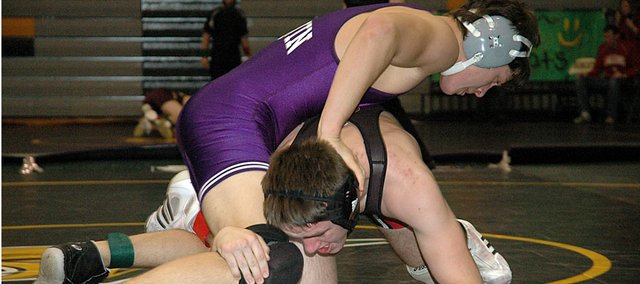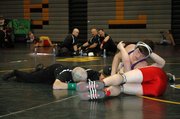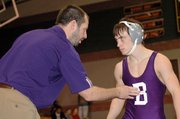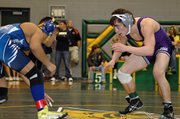 BASEHOR — Baldwin High School seniors Alan Callahan and Colin Busby held their own against many of the state's best wrestlers at the Bobcat Classic here last weekend.
The BHS pair both placed in the top five at the Basehor-Linwood High School tournament which is regarded as possibly the state's toughest. Busby and Callahan, along with sophomore Jesse Austin, helped the Bulldogs score 41 points. BHS finished fourth out of 32 teams, but best of the three Frontier League squads.
"For us to score 41 points with only three kids, two of whom scored points, is pretty good," coach Kit Harris said. "Colin had a great tournament. He won four matches and beat a state placer to get fifth. Alan had a great tournament, too, and lost to a state champion in the finals.
"A lot of brackets are tougher than state," he said. "There are state placers that won't place at this tournament. It's good wrestling, but that's why I chose to send a lot of our younger guys to a JV tournament."
Callahan was again the top Bulldog. He went 3-1 in the 112-pound bracket. In the semifinals, Callahan defeated Saint James' Taylor Moeder with a 3-1 decision. A year ago, Moeder finished third at state in the 103-pound weight class but has moved up to Callahan's division this year.
"He had a great win in the semifinals against a kid he's going to have to see again at regional and state," Harris said. "He's ranked second in the state and Alan's ranked first. It was a good win."
Callahan's opponent in the finals wasn't any easier. In fact, he was a last year's 103-pound state champion in Class 6A, Isaac Ruiz. The two lightweights battled to a 1-1 tie in regulation.
After a scoreless first period of overtime, Callahan took the lead in the next period. He was leading with 10 seconds remaining when Ruiz escaped and scored a quick takedown to win the match.
"Alan worked hard in his finals match, but didn't get help from the official," Harris said. "The official could have opened the match up with some stall calls, but he didn't. He was about to win the match with 10 seconds left and the kid snuck out and spun around for two points. It happened very quickly."
In the 160-pound weight class, Busby advanced to the quarterfinal before losing his first match. In the consolation bracket, he went 3-1 with two major decisions and one pin.
Busby won his fifth-place match with a 12-3 decision over Chase Wells from Santa Fe Trail.
"He got better and better as the tournament went on," Harris said. "On the backside, he had to win three matches against some pretty good kids and he won them all by major decision or pin. This is the best tournament he's had in a long time."
Austin went 1-2 at the Bobcat Classic. He lost his first match by a close 5-3 margin. Then he won his next match before being eliminated.
The Bulldogs will host a dual against Burlington at 5:30 tonight at the BHS. Then the varsity squad will compete at Holton on Saturday.
"We still have some things going on, but we're together as a team more than we've been all season," Harris said. "We hope to have the full team together for Holton."