BHS

girls nearly upset undefeated Panthers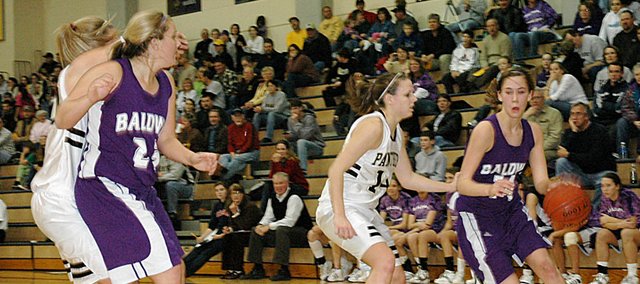 PAOLA — Despite holding one of the top two opposing players to seven points, the Baldwin High girls' squad was beaten here Friday.
The Bulldogs (4-3) nearly beat the 9-0 Panthers on their home court. The Bulldogs lost 64-51 to the undefeated Panthers.
"They are a very good team," coach Bob Martin said. "I thought we played pretty well really. You don't like to lose, but we gave great effort tonight. We just didn't quite get some shots to drop."
The Bulldogs held Paola's senior duo of Rachel Hanf and Taelor Karr to 23 points. Hanf scored 16 of those as Karr battled foul trouble throughout the game.
"Our goal was to keep it close all game," BHS senior Weege said. "We also wanted to stay on Carr and Rachel and we did that. We got Taelor out of the game, but couldn't capitalize."
Karr fouled out of the game just 49 seconds into the fourth quarter. BHS trailed by nine points after senior Alex Zordel sank a pair of free throws. However, BHS would get no closer to the Panthers.
"When she fouled out, we had an opportunity to make a run at them," Martin said. "They did a good job of keeping their lead right then. Had we been a little closer right then, like down five or six, I think we would have had a shot."
BHS was led by senior Tracie Weege, who scored a game-high 23 points. Weege scored 10 of the first 14 points for the Bulldogs. After the game, she wasn't sure how she scored so many points Friday.
"I don't know, I just had lots of energy and wanted to play hard," Weege said. "I can't wait until we play them again."
Sophomore Ramie Burkhart also scored in double figures for BHS. Burkhart added 15 points to the BHS cause. Martin was proud of his sophomore.
"Ramie really stepped up and played well tonight," Martin said. "Hopefully she's able to do that consistently. Tracie is a competitor, so she's going to give you everything she's got."
Baldwin hung close with Paola during the first half. BHS led 25-22 late in the half, but Paola ended the half with a 6-2 run. Burkhart dropped in six points in the second quarter to help BHS.
"We knew they are second in the state and we had to come out strong," Weege said. "We did just that, but came up short in the end."
Paola began to open up its lead in the third quarter. The Panthers outscored Baldwin 17-10 in the quarter.
Martin was proud of his girls' efforts but said a couple offensive droughts hurt their chances to win.
"We did the kind of things we needed to do," Martin said. "I thought our kids executed really well. We just had a couple of flat spells on offense. One of those was at the start of the third quarter, where we let them get away from us a bit.
"We kept in there, but we had to rush things at the end and they were able to push it up a bit," he said. "We had opportunities and chances. We just didn't quite execute as well as we needed to and we had some shots that didn't go in that we needed to fall. If those shots go, it's a different game."