Ballfields' design closer to being approved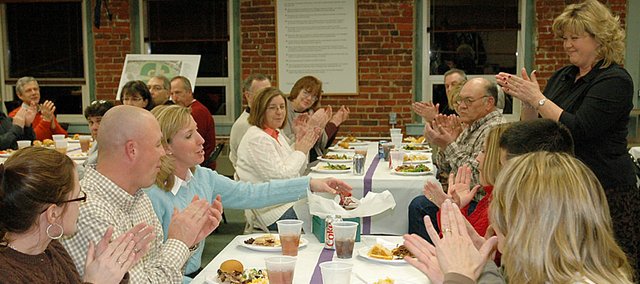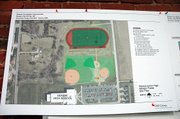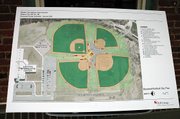 It appears the athletic complexes might be the first facilities of the Baldwin School District's $22.9 million bond issue to have completed design plans.
The DLR Group architects brought designs to Friday's meeting with the primary bond steering committee. Those plans were reviewed by the committee members and handed back to the architects with a few suggestions.
"They went back with our suggestions from earlier meetings and did some designs," Supt. Paul Dorathy said. "They brought those back to the main steering committee and asked us what we think. Then our committee threw a few ideas or changes back at them. Now they're back working on those changes. I would say we're getting closer to a finished product on the athletic fields."
The plans still call for two baseball and two softball fields located to the south of Baldwin Elementary School Intermediate Center. Only one baseball and one softball field would be large enough to host high school postseason action.
However, the new fields would be larger than the current fields being used by Baldwin High School. The two larger fields are even bigger than the original plans called for. Dorathy said it might be a challenge to get all four fields to fit on the property, but it appears they will all fit.
"They took the information given to them by the coaches about the necessary size of those fields to host a regional or sub-state," Dorathy said. "They also got information from the recreation commission about their needs for those fields. With that, they've started putting those plans together."
The architects also brought plans for the practice track and athletic facility north of BHS. The track would surround the current BHS soccer field. The plans also include retaining a portion of the current baseball and varsity softball fields.
"They are going to maintain the present baseball field and east softball field," Dorathy said. "They will take out the outfield fences, but they will maintain a backstop. It will be new backstop areas."
Friday's meeting also touched on the renovations at Baldwin Junior High School. Those include a new heating and cooling system, new roof and renovations to the corridors.
The discussion of that phase of the bond issue has just begun. A committee for the performing arts center will be formed soon. One challenge for the BJHS projects, not including the performing arts center, will be time.
"The plan for the junior high renovations is to start immediately after school is out in May and push to have all of that completed before school starts again in August," Dorathy said. "They'll be on a pretty tight schedule to accomplish all of those tasks."
Although there was no discussion about the new Baldwin Elementary School Primary Center, Dorathy said the committee will probably choose the DLR design of Prairie Creek Elementary School in Spring Hill for its design.
"The building there now is a K-5 building, so there have to be some changes made to make it a building for younger children," he said. "Also, that school is designed for 480 students, but is only populated by 240 students. So they were going to have to add some extra classrooms to the design, which it's designed to do. The architect will bring those plans back to us at our next meeting."