Offense struggles against rival as
BHS

girls fall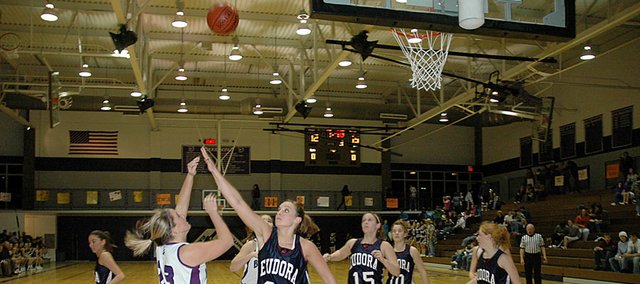 Neither Baldwin High School nor Eudora could get much offense going in the first half of Friday's varsity girls' contest.
However, unlike their opponent, the Bulldogs continued to struggle in the second half as well. BHS was outscored 28-17 in the final two quarters as it lost to Eudora 43-29 at home Friday.
"They're a very good team, a very sound team," BHS coach Bob Martin said of Eudora. "They're a very good defensive team and we struggled all night to score. I thought that we did some good things, but they forced us into some mistakes. Then it seemed like there was a lid on for most of the night."
Baldwin started the second half with a basket by senior Alex Zordel. The next four minutes would belong to Eudora as it went on an 8-0 spurt to give itself a 23-14 advantage.
Then Zordel scored again, followed by a trio of foul shots by senior Tracie Weege. All of a sudden, the Bulldogs were only four points down. However, they were unable to score in the final three minutes of the quarter, as Eudora knocked in a pair of baskets.
"We broke down during a couple of stretches early in the third quarter and then late in the game when we were trying to come back," Martin said. "Then they began to pull away from us."
A similar situation happened in the fourth quarter as well. Eudora led 31-23 with 6:02 remaining. Weege then hit three more free throws to cut the lead to five points. Then the Cardinals responded with a 12-0 run before BHS senior Calleigh Durr sank a three-pointer with 12 seconds left.
"We made a move in the game where we were cutting into the lead and Tracie hit three free throws, and I thought we had our chance right there to catch them," Martin said. "Then we turned the ball over a couple times and gave them a couple easy baskets.
"Going into the game, we thought if we could make them earn every point they had and not give up anything easy, we had a really good chance," he said. "We ended up giving them some easy stuff on us during a couple of runs. That was the difference in the game."
No Bulldogs scored in double figures. Weege led the Bulldogs with nine points. Durr added seven while sophomore Ramie Burkhart scored six points. Only four Eudora players scored in the game, which usually is more about defense than offense.
"I think it's two pretty good defensive teams going after each other," Martin said. "We were pretty good defensively most of the night, but it was a tough, physical game all night. I just thought they were a bit more physical than us tonight."
Baldwin will try to rebound from losing its first Frontier League game of the season by traveling to Paola on Friday. The first games of the night begin at 4:30 p.m., with the varsity girls playing at 6 p.m.
"Everyone in the Frontier League is going to be pretty tough this year," Martin said. "Paola is ranked second in the state heading into tonight and I think they deserve the ranking. So, it will be a good challenge for us."