Local cousins win grand prize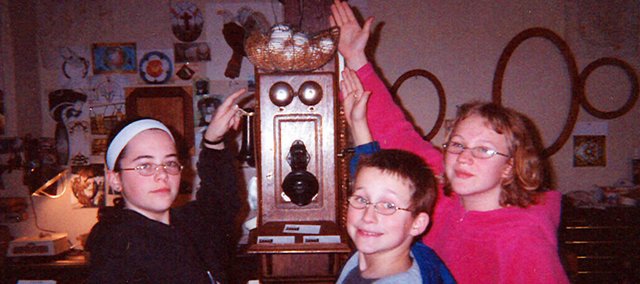 A trio of Baldwin City cousins put their heads together and solved all 27 clues on this year's holiday scavenger hunt.
Their reward — $300.
The grand prize winners were Sarah Baker, Jaclyn Reffitt and Joe Hendry. The trio of local youths were chauffeured around town by their grandmother, Rose Baker.
"It was pretty fun being together and trying to figure out the clues," S. Baker said. "It took a while to fit it in all of our schedules, because of school and when the businesses were open."
The third-annual scavenger hunt had the trio of cousins traveling around Baldwin City and more than 10 miles west of town. At each business, they were required to match a clue to the business and then take a picture with a specific item.
During the month the scavenger hunt ran, Nov. 13 to Dec. 14, cold weather and snow blanketed the area many days. That also created obstacles for the group.
"It was pretty hard to do some days, because of the weather," S. Baker said. "We also forgot the clues sometimes, because my grandma had a set at her house and we had ours. We were using both lists so it was confusing at times."
Her mother, Susan Baker, was proud of her daughter, niece and nephew for working hard on the scavenger hunt.
"It was exciting to see that they were interested in working on this together," Susan Baker said. "It's also a chance to work on their savings. I never knew how far along they were, but I knew they were working hard. They spent a lot of hours on it."
The second-place prize of $200 for finding 18 clues went to Dana Robertson, Nancy Walker and Cindy Pappas. Third place, which required 10 clues for $100, went to Adam Guss.
A total of 35 scavenger hunt kits were sold this year. However, only 13 of them were returned. Event organizer Katie Skinner wasn't sure why so few were returned.
"The participation was down this year," Skinner said. "I don't know why it's down. It's nice to see that many people had interest in buying the kits. The winners all did a great job."