Late game heroics missing again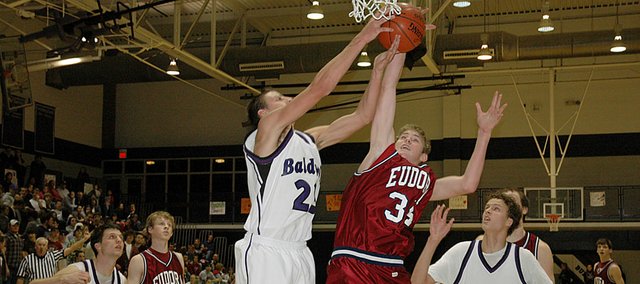 Game-winning shots haven't fallen for the Baldwin High School boys' basketball team this season.
When it comes to needing a basket in the final seconds of a game to clinch a victory, the Bulldogs are now 0-2. After a two-point loss against Louisburg in December, the Bulldogs dropped another close contest at home Friday.
Baldwin lost its first Frontier League game of the season Friday. BHS was beaten 47-45 in overtime by rival Eudora.
"It was a great environment and a great basketball game," coach Eric Toot said. "It was great to be a part of it, but we just came out on the short end of it. I'm hurting for our kids, because they wanted to win that one bad tonight."
On Friday, the Bulldogs actually had a pair of chances to win the contest. With the game tied 40-40, Baldwin had possession of the ball for the final 28 seconds. BHS passed the ball around for 20 seconds before running an offensive set. As time ran out, the Bulldogs forced a shot that was defended well by the Cardinals.
BHS began overtime with a three-pointer from senior Sam Beecher. Fellow senior Brandon Tommer later hit a pair of free throws to give BHS a 45-42 lead. However, the Bulldogs failed to score a point in the final 2:30 of overtime.
"We made some plays, no doubt," Toot said. "We just needed one more play somewhere. We just didn't get it. Hopefully, our kids will stay positive and come back next week. We'll get better."
While BHS struggled to score, the Cardinals scored two baskets to take a 46-45 lead. Then Eudora's Brian Katzfey hit one of two foul shots to give the Cardinals a two-point advantage.
Once again it was time for a game-winning or game-tying shot from the Bulldogs. They had 20 seconds to do it. Unfortunately, they forced a guarded shot that was short of the basket, ending the game.
"We had some chances to win it, but we didn't execute very well," Toot said. "That's partly my fault. The communication between my team and me wasn't the best at times. I'll take responsibility for that. We had some chances to do some things, but we just couldn't finish."
The Cardinals rallied from a 10-point deficit at halftime. BHS began the second quarter with an 8-2 run which turned into a 28-18 halftime lead. Tommer scored 10 of his game-high 19 points in the second quarter as he helped BHS build a lead.
However, the Cardinals gained momentum in the third quarter and ran with it. They outscored BHS 14-2 in the quarter by draining a pair of three-pointers and shutting down the Bulldogs' offense.
"Offensively, I thought we played very well in the first half," Toot said. "Then in the third quarter, we just stopped executing. We weren't doing the things we did in the first half. We've had a problem with it all year.
"They (Eudora) turned up the heat a bit, which we knew would happen," he said. "We just didn't respond very well. We have too much talent to score two points in a quarter."
Senior Clad Kueffer agreed with his coach, saying their intensity in the third quarter was awful.
"Yeah, it was tough," Kueffer said of the loss. "That's not the way we wanted it to end. We played a good half and then we just stopped attacking in the second half. That cost us in the end."
Friday was the first game for BHS sophomore Justin Vander Tuig. The 6-foot-8 center battled sickness in December, but came back Friday to score eight points for the Bulldogs.
"It was nice to have him back and it added another element to our game," Kueffer said. "It makes us a lot longer, bigger and more effective in the paint."
Vander Tuig's coach was also proud of his performance.
"No doubt, he had a great game," Toot said. "He's had a rough go of things. I thought for his first game, he played very well tonight. He was physical and battled defensively. He was also a presence for us offensively. We just need to get him the basketball more."
After having all week to practice after Friday's loss, the Bulldogs will travel to Paola Friday for its next league game. The first games of the night begin at 4:30 p.m. with the varsity boys' game starting about 7:30 p.m. The Panthers beat the previously No. 2-ranked team in Class 4A, Girard, last week.
"It will be a tough game," Toot said. "They beat the No. 2 team in the state last week so we have a tough road ahead of us. We just have to get better and hopefully win our share."